Poker is one of the most popular casino games out there. It is deeply entrenched in our culture, and in today's time, you will be hard-pressed to find someone who hasn't played it or at least heard of poker.
In addition to being fun and engaging, poker requires an excellent balance of luck and skill, which are just some of the reasons millions of players across the world enjoy poker.
But did you know that poker's origins and its history as just as fun and entertaining?
Origins of Poker
Even though no one can pinpoint the exact origins of poker, it is believed that the game of poker has ancient roots dating back to the 10th century, making it more than one thousand years old. Some historians speculate a Chinese emperor played the first variant of poker, while others say it emerged from the Persian game called As Nas, played in the 16th century.
Poker's distant European relative is a game called primero, hailing from Spain, which influenced the German game of pochen and the French card game poque, the latter of which is believed to be the closest relative to the modern game of poker. After the Louisiana Purchase in 1803, French colonists brought the game of poque to the United States, where the game spread like wildfire along the Mississippi River.
Poker in the 19th Century
Poker was extremely popular among riverboat crews that transported goods. After the game spread up the Mississippi River and throughout the country, the game evolved gradually—the deck changed from 20 cards to 52 in 1834, revolutionizing the game of poker. The flush was introduced shortly after, and a draw was added to the game before the 1850s. At the same time, the stud five-card became extremely popular during the gold rush in 1849, which eventually turned into a seven-card stud.
Poker experienced another small boom in popularity between 1861 and 1865 when it was played during the Civil War by both Union and Rebel forces. Fast forward a few years into the future, and the game became a staple of the Wild West saloons during the 1870s and 1880s. In Europe, the game was introduced to Queen Victoria in 1881 by the US minister of Great Britain after she overheard him explain the game to the members of her court and asked for the rules. However, poker only became widely popular across Europe several decades later, thanks to the influence of the American soldiers during World War 1.
Poker in the 20th Century
Perhaps the most significant rise in popularity for poker in the modern era was right around the time the World Series of Poker was founded. In 1969, Tom Moore sponsored an event at the Holiday Hotel and Casino in Reno called Texas Gambling Reunion, which ultimately led to the creation of WSOP.
With the help of renowned poker player and casino owner Benny Binion, the first WSOP took place in 1970 at Binion's Horseshoe as a series of cash games, which involved variants like the five-card stud, seven-card stud, deuce to seven low-ball draws, razz, and Texas hold'em.
Just a few years later, poker was televised for the first time in 1973, and the game quickly rose in popularity across the entire United States—larger prize pools became a norm, and by 1980, poker was widely considered a recreational activity in pop culture.
Some of the most notable names that helped popularize the game of poker are Johnny Moss, considered the first World Champion of Poker, Bobby Baldwin, Puggy Pearson, Amarillo Slim, and Doyle Brunson. While poker continued its gradual rise to stardom, a massive poker boom occurred in 1987 when California legalized flop games like Stud, Omaha, and Texas Hold'em. Moreover, Congress passed the Indian Gaming Regulatory Act (IGRA) just a year later, legalizing casino games on Indian lands, and poker rooms sprouted across the country.
Poker continued to grow and became popular in cities like New Jersey and Atlantic City. However, even with so many new gambling establishments around, it didn't take long before poker went digital. Namely, according to fun poker history facts by Casinos Blockchain, online poker was born on January 1, 1998, when the first real money online poker game was dealt at Planet Poker.
Poker in Digital Age
Just like some of the most popular browser games, poker is available all over the web. The latest advancements in technology, such as fast and cheap internet, have made poker more accessible than ever, allowing players to enjoy a game of poker whenever, be it from the warmth of their own homes or while commuting.
Regardless of your preference, the digital era put poker on a global map and introduced a slew of possibilities. In fact, did you know that a good chunk of modern-day tournaments is held online? Even the WSOP moved online in 2020 and 2021 during the pandemic caused by COVID-19 when governments restricted live poker events.
Not only that, but players can enjoy their favorite card game on various poker platforms, such as PokerStars, WPT Global, and many others. In addition, the web is home to many online casinos where players can join casual Sit n Go tournaments, play video poker, or even qualify for live poker tournaments through online qualification events.
The poker craze spread even outside casinos and poker tournaments. In fact, the ever-so-popular card game also made its appearance in today's pop culture—poker is often portrayed in movies, and some of the most popular ones are poker-inspired titles like Rounders (1998), The Cincinnati Kid (1965), Mississippi Grind (2015, Molly's Game (2017), and many more.
On the other hand, if you prefer something a tad more realistic, you can always enjoy poker TV shows like Poker After Dark, Celebrity Poker Showdown, and European Poker Tour, to name a few.
The Wrap Up
Poker boasts a rich and vibrant history. While its exact origins remain a mystery—whether it emerged in the 10th century, the 16th century, or later—it's a mere detail considering poker's legacy.
The more important bit is that all the events that occurred throughout poker's history led us to an extraordinary present—a dozen poker variants, multi-million dollar prize pools, and the opportunity to play poker whenever we feel like it.
So what's there not to like?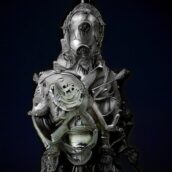 Joel
Joel is a whiz with computers. When he was just a youngster, he hacked into the school's computer system and changed all of the grades. He got away with it too - until he was caught by the vice-principal! Joel loves being involved in charities. He volunteers his time at the local soup kitchen and helps out at animal shelters whenever he can. He's a kind-hearted soul who just wants to make the world a better place.