If you're a fan of intense action-packed games like God of War, then you're in luck! There are several other titles out there that offer similar thrilling experiences. These games combine epic storytelling, cinematic visuals, and satisfying combat mechanics to immerse players in captivating worlds filled with gods, monsters, and ancient mythology.
Games Like God Of War
If you're a fan of the epic action-adventure gameplay and intense combat featured in God of War, you'll be pleased to know that there are several other games out there that offer a similar experience.
Devil May Cry: With its fast-paced combat and stylish action sequences, Devil May Cry is often compared to God of War. As the demon hunter Dante, players unleash devastating combos and navigate through visually stunning environments.
Darksiders: In Darksiders, players assume the role of one of the Four Horsemen of the Apocalypse as they battle hordes of enemies across a post-apocalyptic world.
Bayonetta: Known for its over-the-top action and flashy combat moves, Bayonetta follows the story of a powerful witch battling angels and demons alike. The game offers a mix of hack-and-slash gameplay with intricate combos and jaw-dropping set pieces.
Nioh: Set in feudal Japan, Nioh combines historical events with supernatural elements as players take on the role of William Adams, a Western samurai fighting against mythical creatures and skilled warriors. It boasts challenging combat mechanics reminiscent of God of War's intensity.
Middle-earth: Shadow of Mordor: If you enjoyed God of War's immersive world-building, Middle-earth: Shadow of Mordor is worth checking out.
These games like God of War provide thrilling adventures, intense combat, and captivating narratives that will keep you hooked for hours on end. Whether you're drawn to mythological battles or immersive storytelling, these titles are sure to satisfy your gaming cravings.
Action-Adventure Games With Epic Battles
When it comes to action-adventure games, few can rival the epic battles and intense gameplay of God of War. If you're a fan of this popular franchise and looking for similar gaming experiences, here are some exciting games like God of War that will keep you on the edge of your seat:
Devil May Cry: Step into the shoes of Dante, a half-human, half-demon warrior, as he battles against supernatural forces in stylish and fast-paced combat. With its over-the-top action sequences and challenging boss fights, Devil May Cry offers a thrilling experience reminiscent of God of War.
Darksiders: Immerse yourself in a post-apocalyptic world where you play as one of the Four Horsemen, tasked with restoring balance between heaven and hell. With its blend of hack-and-slash combat and puzzle-solving mechanics, Darksiders provides an engaging adventure filled with epic battles.
Nioh: Prepare to face off against fierce samurai warriors and demonic creatures in this dark and unforgiving action RPG set in feudal Japan. Nioh offers intense combat encounters that require precise timing and strategic thinking, making it a worthy contender for fans seeking challenging gameplay akin to God of War.
These games provide action-packed adventures with epic battles that will satisfy your craving for intense gameplay similar to God of War. Whether you prefer hack-and-slash combat, intricate storytelling, or breathtaking visuals, these titles are sure to deliver an unforgettable gaming experience. So grab your controller and embark on an exhilarating journey into the realm of these action-adventure games!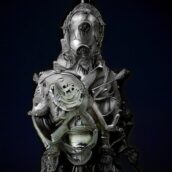 Joel
Joel is a whiz with computers. When he was just a youngster, he hacked into the school's computer system and changed all of the grades. He got away with it too - until he was caught by the vice-principal! Joel loves being involved in charities. He volunteers his time at the local soup kitchen and helps out at animal shelters whenever he can. He's a kind-hearted soul who just wants to make the world a better place.