Back when the live-streaming trend first took off, there wasn't a clear focus on gaming. In fact, Justin.tv, the precursor to Twitch, was actually focused on live-streaming creator Justin Khan's personal life. The streamer aimed to keep a 24/7 window into his life open for remote internet users.
When Justin.tv turned into Twitch.tv, the platform slowly pivoted to focus on gaming exploits. The idea was simple: let gamers connect by viewing live gaming sessions and create streaming accounts for others to follow and interact with. By 2014, Twitch had become such a breakout hit for gamers that it was bought out by Amazon.
Fast forward another decade and Twitch is once again evolving. Over the last few years, non-gaming channels have taken off. These include things like instrument tutorials, DIY guides, live streams of wildlife, makeup channels, and so much more. However, it's still overwhelmingly focused on gaming—and that means that gamers have almost unprecedented access to games, streamers, and content of all stripes.
Let's get into the weeds and explore some of the coolest gaming streamers who you may not have heard of.
EasyWithAces, Poker
There are plenty of streams that focus on poker. Variations like Texas Hold'em and Omaha have been the subject of online poker rooms since the early 2000s. And while many players have been learning the ropes using Twitch and YouTube streams, there's a clear winner when it comes to poker content—that belongs to Fintan Hand's EasyWithAces channel.
He regularly hosts interactive games from his home in Ireland. There, he has a specially created poker table that allows him to host games with remote viewers, allowing them to play in real time. The channel also covers interviews and games with other major players in the poker community, including Benjamin Spragg.
Deadlyslob, Escape from Tarkov
Deadlyslob is a Canadian streamer who focuses on various games. Though technically a variety gamer, Deadlyslob has tons of fans who tune in to watch his live Escape from Tarkov content. He's known for having a very unique playing style, which makes his sessions standout in the FPS world. However, what many players love about Deadlyslob is his attitude. He's a gamer's gamer, which means that he enjoys a great match and doesn't use meta kits often.
Rather than lash out at other players, Deadlyslob is known for congratulating others on a good kill—even if he was the target. This positive attitude and humility have made him a breakout streamer in 2022 and 2023. As we'll see with another name on this list, Glorious_e, this type of mindset can go a long way in attracting new subscribers and keeping existing subs happy.
Emiru, Cosplay & LoL
Let's be clear—Emiru is one of this year's fastest-rising Twitch stars with over 1.1 million subscribers. However, we still wanted to cover her because she's a relatively new quantity in the cosplay space and has been blowing up in her native US.
She's particularly beloved by subscribers, many of whom have been following her since she joined Cloud9 as a content creator. This is part of Emiru's allure—she's been involved in gaming for years, which adds depth and intrigue to her cosplaying streams and makes her a top choice for variety stream fans.
Glorious_e, Escape from Tarkov
It seems there might be a trend here. Are streamers who focus on Escape from Tarkov so different from other FPS streamers, like those who play CS: GO or Call of Duty? In terms of content, there's not a huge difference. However, as with Deadlyslob, it seems like most subscribers are in it for the personality. This is true for Glorious_e, a Turkish-Danish streamer.
Personality is an important aspect for any streamer, but it's particularly crucial when it comes to hypercompetitive FPS games where players are prone to lose their temper. Glorious_e, on the other hand, is known for creating an inclusive and positive environment for his competitors and his streamers. This is key for many because they view their live-stream channels as gaming communities where players should interact and enjoy themselves.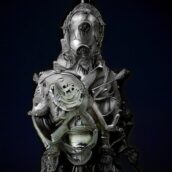 Joel
Joel is a whiz with computers. When he was just a youngster, he hacked into the school's computer system and changed all of the grades. He got away with it too - until he was caught by the vice-principal! Joel loves being involved in charities. He volunteers his time at the local soup kitchen and helps out at animal shelters whenever he can. He's a kind-hearted soul who just wants to make the world a better place.