What are the best Minecraft mods? It's been searched by so many people on the internet. We all know Minecraft is a famous gamer in the sandbox genre where you build blocks and explore the virtual world to find the adventure. The game is loved by millions of players and there are regular updates for the game. But, just updates are not enough and sometimes you feel that hunger for more fun and excitement. Well, that's where the new Minecraft mods come as the blessings in your gameplay.
For more of our Minecraft, Check out some games like Minecraft you may like. 
We have compiled some of the best Minecraft mods right now. We have divided the Minecraft mods into various sections like what you want to do with the game.
What are Mods vs Modpacks?
| | |
| --- | --- |
| Mods | Modpacks |
| Mods are free modifications created by video game's community that changes the game in a certain way. Some mods can add new enemies, weapons, and maps to the game while others can fix simple problems such as bugs and performance issues. | Modpacks are simply a certain number of mods combined in a file. Certain mods can be incompatible with each other sometimes, and in those situations, experienced modders come to our rescue and combine these mods in a way that makes them compatible. |
How to install Minecraft mods on Windows 10 or other OS?
Every mod for Minecraft comes with its different installation instructions. So Whichever Minecraft mods you want to download follow the link below its name. If you want to download these you may also need to downgrade your Minecraft version for many of them as mostly version 1.7.10 which is best as all mods below will work for that. Follow ourComplete Guide to Install Minecraft Mods Here. Also If you want to learn how to make minecraft faster, check this.
You can also use a software called MultiMC which helps you to install multi Minecraft mods.
If you are finding it difficult to install and wasting your time, we suggest you get modpack that have everything preinstalled and configured. You can use Feed The Beast's Direwolf20 1.7.10 pack (with tutorials), the Tekkit Pack, or making your own modpack with Curse Voice.
You don't have to do any coding for that because there are several mods packs that you just need to download and install and you are on your way. Lastly, in this day and age always make sure you use fast internet providers when playing games online, to minimise any lag and interruptions. Comparison sites are a good way to check what is best in your area.
So, there is no need to say that you are at the right place because I'm, going to introduce you to some of the best mods for Minecraft, so go along with the article.
Best Minecraft Mods
---
Optifine / Fastcraft
Make your slow running computer a power booster device by installing a Fastcraft mod. Whenever you feel that your PC doesn't have a strong configuration you can go for this mod. It improves the lack of graphics by providing the game an HD texture and gets better control of visuals. So if you really think your machine is not capable of displaying the graphic properly, go for the Fastcraft and feel improved gameplay. Make sure you test your Minecraft Version. This mod significantly improves performance on lower-end machines, particularly with lots of Minecraft mods installed. Download Optifine
Journey map
Well, Journey map enables you to see the route where you are actually heading to. It represents your entire journey on a map so you can get an idea of your journey. It simplifies things as it clarifies your route and you can also mark your favourite places if you want to visit them again. This mod also helps you warning if there are enemies behind you and you can view it as a minimap, or just in your browser. Download Journey Map
Not Enough Items, Inventory Tweaks and Waila
You can have all these three mods in just a pack that greatly improve your experience in the gameplay. By having the Inventory Tweaks, the game automatically replaces your broken tools in the chest with just a mouse click. Isn't it cool to load your chest with new tools by just clicking once? Download Inventory Tweaks
Waila means What Am I Looking At is also very cool as it lets you know about an unknown block that what it is in reality so any unfamiliar block doesn't exist anymore when you have this mod. Downalod Waila
---
Millénaire
This one also comes as one of the best Minecraft mods because it literally makes you a millionaire. There are times when you explore very much but find nothing valuable then this mod comes. This mod fixes the issue of emptiness and fulfills the space with some wealthy content that you can collect. Also, you can get rid of boredom by changing villagers into children, men, women and polish the village with some new century's themes. Downlaod Millenaire
The Lost Cities [1.10, 1.11, 1.12]
As its name suggests, by activating this mod, you get into the parts that are forgotten by the world. Now you don't see those buildings and industries all around but they are lost cities and you are roaming there. The mod takes you to the apocalyptic wasteland where you need to survive without going to the mouth of death. So, this mod means there is a lot to explore and fight against. Downlaod The Lost Cities [1.10, 1.11, 1.12]
---
The Aether [1.7.3]
As you have already seen the world Nether where things are like hell and difficult to survive. Aether is an opposite mode of Nether and it takes you to a heavenly world where everything is well-settled and beautiful. It's really a heaven when you are floating on the clouds and there are islands and greenery all around. That's not it because there are even flying animals like flying cows, pigs and yeah some enemies too so this one deserves being among the minecraft best mods.Download The Aether [1.7.3]
---
Twilight Forest [1.7.10]
Want to experience the aura of twilight in the forest? Go for the Twilight Forest mod and explore the adventure in the dense forest ornaments by the semi-darkness just like Twilight. Adventure brings you a lot of treasure plus monstrous things too. There are spectacular things where you can roam around like those hedge mazes, enchanted groves, glaciers, and much more as you go deeper into this world. Download Twilight Forest [1.7.10]
---
Carpenter's Blocks
Carpenter mod is recognized one of the best mods for minecraft as it allows you to create spectacular shapes whenever you feel the need of creating blocks. It sets you free from those usual blocks and makes them customized as you want. It allows you creating slopes that you can use to create your doors, flowerpots, torches, and more exciting shapes. So, now if you can imagine the shape you can build it using Carpenter's Blocks mod. Download Carpenter's Blocks
---
Decocraft
If you are the one who likes creativity all around then this Decocraft mod is just for you. As its name, it pushes decoration and that means it adds variety in things. It allows you to decorate your world with those attractive looking chairs, tables, lamps, torches, stuffed toys and so you can DIY your entire home and the option with this mod are just endless. Download Decocraft
---
Bacteria Mod
With the bacteria mod, you are able to prepare bacteria in the form of gardening and dig them out. These bacteria do a different kind of tasks whether it is for destruction or creation when you release them. So Minecraft's this mod lets you grow bacteria that you can set free in the world but handle it properly if you are experimenting as they can destroy your own base. Download Bacteria Mod
---
Botania [1.7.10]
Botania is all about flowers and after getting this mod, you can grow these beautiful flowers at your own place and use them for various purposes. These flowers can be used to heal you, to feed your animals, even cake eating flowers and they often turn aggressive against each other. So, it's pretty much fun to install this mod and see those flowers doing activities and with these features, Botania makes its place among the best Minecraft mods. Download Botania [1.7.10]
---
Dungeon Pack
Dungeon Pack lets you explore lots of dungeons in the game so you can crawl out of them. It is pretty cool to have dungeons in the Minecraft whenever you feel that the game should have some extraordinary activities to do. Dungeons give an amazing look at that virtual world and the crawling is limitless just like any other dungeon game. So if you are a fan of dungeons, then go ahead with this mod. Download Dungeon Pack
---
Animal Bikes
What can be better than riding on the back of animals? This mod helps you a lot when you feel the area is vast and you need to explore it in just no time. This way, the mod 'Animal Bikes' comes in use and it allows you travelling and exploring a vast area when you are on the back of animal of your choice. So pick up this mod, choose your favourite animal and enjoy the ride forever. Download Animal Bikes
---
Still Hungry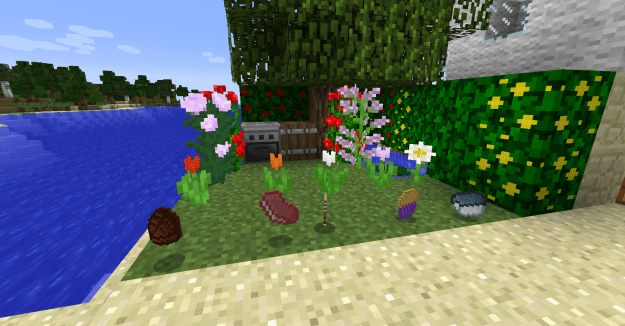 The game is all about survival just like any other game and in the Minecraft, you can survive only if you have the least amount of food. This mod 'Still Hungry' is a way to fulfil you with lots of food so there would be no requirement of searching for food. This is not an unlimited amount of food but there is plenty and you can choose from several options so you can choose your type. Cool, Huh? Download Still Hungry
---
Instant Lake Block Mod
Want to enjoy your game in lakes? Go for the 'Instant Lake' mod and you fill any empty space with lots of liquid so it seems like a lake and enjoys your game. It's not necessary to fill out with water but you can choose any type of liquid just like Lava Lakes and enjoy the scenery in Minecraft. You can make as many lakes as you want after you search empty spaces. Also, you can go for empty holes and fill them up with water or lava. Download Instant Lake Block Mod
---
Smart Moving
You can get a hint by its name. The mod 'Smart Moving' makes you able you to roam here and there while making smart moves. So your moving experience feels better when you select this mod. You can climb any trees or fences and crawl in any place like caves or even you can swim smartly when you have this mod. So, there is no doubt that it's one of the coolest mods of Minecraft. Download Smart Moving
---
Hyper HD Realism 
A must-have Minecraft 1.12.2 mod for the people with strong PCs, Hyper HD Realism significantly improves the quality of visuals. The lighting looks absolutely phenomenal and block textures looks way crisper. A great texture mod. Download Hyper HD Realism
---
LotsOMobs 
This Minecraft 1.8 exploration mod adds more than 25 new mobs to Minecraft, creatures like fish, lions, mammoths and even dinosaurs. These animals also have unique drops that can be used for different recipes, so it makes exploration even more exciting. One of the best Minecraft 1.8 mods for sure. Download LotsOMobs 
---
Chisel 2 
This Minecraft 1.7.10 creative mod adds tons of new static blocks to the game for the people that love MC's building aspect. It also adds two new items to the game. The first one, Ball O' Moss modifies all the nearby blocks, for example, turns Stone Brick into Mossy Stone Brick. The second one, Cloud in the Bottle, creates a large amount of clouds on impact. Download Chisel 2 
---
CandyCraft 
If the demonic landscape of Nether kind of scares you, this sweet Minecraft 1.7 mod should soften you up a little bit. As you can understand from its name, CandyCraft allows you to go to the Candy Dimension which has sugar-coated enemies, candies to eat and bosses to defeat. Download CandyCraft
---
Advanced Rocketry 
A great Minecraft 1.7.10 mod, Advanced Rocketry takes the exploration part of the game to a whole new level. It adds rockets, planetary research, machines to create, satellites and space stations. With those, you can explore beyond the stars. Download Advanced Rocketry
---
Quark 
Quark is a great but subtle Minecraft mod that is supported on the latest Minecraft versions such as 1.9, 1.10, 1.11 and 1.12. It is also a modular mod, which means its features are split within various modules that can be disabled or enabled. It also does not change the vanilla game drastically, just adds more depth to each element. In short, it's the ideal mod for anyone who's mastered vanilla Survival mode. Download Quark
---
Rope Bridge
One of the most frustrating parts of Minecraft exploration is climbing a mountain just to go down another chasm to climb another one. This handy Minecraft 1.11.2 mod gives you access to the Rope Bridge tool which constructs bridges between mountains. Easy, simple and useful. Download Rope Bridge
---
Pam's HarvestCraft 
In Minecraft, you have to eat to stay alive. But most players live their virtual life by eating cooked pork all the time. If you want more dish variation, this Minecraft 1.12.2 mod adds 60 new crops, 6 garden bushes to find and harvest, 36 fruit or item bearing trees, 19 new fish 1400+ new items and food. Download Pam's HarvestCraft 
---
Applied Energistics 2 
This awesome Minecraft 1.7.10 mod lets you turn matter into energy and use this in various different situations. You can access to your chests wirelessly in your base, you can use new unique items like Quartz Grindstone and Wireless Terminal. It also adds new blocks to the game! Download Applied Energistics 2 
---
Apotheosis
This mod stays true to the vanilla game while adding many more exciting elements to the enchantment system that you have access to as a fledging wizard. With six modules: Enchantment Module, Deadly Module, Garden Module, Potion Module, Spawner Module and Village Module, there are enhancements and additional items to be discovered. Download Apotheosis
---
Chance Cubes
If you've been playing Minecraft for a long time and are longing for something to surprise you, the Chance Cubes mod might be exactly what you need. These large green dice cubes will appear randomly whenever you choose to go exploring, and upon opening can be a delightful surprise or a dreadful disaster. For example, if you're lucky, you might unlock a fully built mansion and next level items. 
If you're not the type of player to go exploring, you can sacrifice some of your lapis to acquire the Chance Cubes in your backyard. Download Chances Cubes.
---
GraveStone Mod
Everytime you die in Minecraft, your items are just dropped in the spot unceremoniously. If you'd like a bigger deal made out of your untimely demise as well as a helpful reminder of where all your precious items are stored, this mod does all of that.
It places a gravestone in the block where you died, and also prepares an obituary for you that contains your name, the dimension you died in, the date you died, the coordinates of where you died, an image of you with your equipment, and a list of every item of equipment that you were carrying with you. Download GraveStone.
---
Doggy Talents
A lot of players love their faithful minecraft canine pets, but we have to admit that they don't do much except die unexpectedly. This mod gives you dog a complete overhaul, equipping him/her with 19 unique talents. You can also now play fetch with your dog, and take care of him/her better with a special bed and bowls for meals. 
Your minecraft dog also does what your real life dog can't: be immortal and eat cake! If the dog's hunger goes to 0, they won't die but just stop responding to commands (don't we all when we get hungry) and you get to feed them cake to bring them right back to normal. Download Doggy Talents.
---
Best Minecraft Modpacks
Minecraft has one of the biggest modding communities in the world and that shows in numbers. There are thousands of different modifications and hundreds of modpacks. Not all of them are user-friendly and easy to understand and install, so we will briefly talk about the most known ones.
Tekkit: Tekkit is one of the most popular modpacks for Minecraft, and for a good reason. It combines a lot of different engineering mods such as Modular Powersuits, Galacticraft, and Buildcraft. You can build a lot of new machines to help with mining, go to space and travel to different dimensions.
Hexxit: Hexxit is one of the best Minecraft modpacks as it completely reworks the adventuring side of the game. It adds different enemies, dungeons and quests and makes each encounter more dangerous. Exploration, adventure, and slaying epic monsters, what else do you need?
Attack of The B-Team: Another great MC mudpack, Attack of The B-Team adds new mobs to kill, new plants to harvest, new tools to make, new machines to build, and hundreds of new blocks to play with. It also adds hats. Yes, it's got you covered.
SkyFactory: This huge mudpack contains roughly 120 different mods and makes the game noticeably more difficult through various challenges. It is inspired by SkyBlock, though its creator states "Calling this pack modded SkyBlock is like calling the Bat Mobile a 'car'. It's SkyBlock, but like you've never seen it before! High tech mods, full automation, and spawning in the void with nothing but a tree and a *single* piece of dirt between you and certain death!"
SevTech: Ages: The best Minecraft modpack in my opinion, is the SevTech: Ages. This huge mod starts you with nothing but a handful of recipes, but as you progress, you can unlock more mods, hundreds of different content and recipes and go through different ages from stone age all the way to space.
Frequently Asked Questions
Are Minecraft Mods Safe?
Yes, Minecraft Mods are safe if you download them from official websites or from even from our website. We scan every file before linking it for you.
Are Minecraft Mods Free?
Yes, Minecraft Mods are totally Free. They are made by independent users for their comfort and later released to public for use.
How do I get Minecraft Mods?
Once you have a Minecraft game and installed it. You can visit our page about installing mods on Minecraft Here.
Can You Install Minecraft Mods on PS4 and Xbox One?
No, at least not at the moment. Consoles have DLCs if you want new gameplay experiences, but if you want literally hundreds of different mods, PC has to be your platform of choice.
Conclusion
These are some of the best minecraft mods that you can install on your devices and take pleasure of the unusual things in your gameplay. Experience stunning worlds and unique activities that you don't able to do in the game without mods. Also, take care of the compatibility of your mod works fine with the current version or not and you are all set to enter the new world.
Charles
Charles has been writing about games for years and playing them all his life. He loves FPS, shooters, adventure games like Dota 2, CSGO and more.