When it comes to gaming, the first thing you need to pay attention to is the screen you are using. After all, if the visuals are not smooth and lag-free, it takes half the fun out of the gaming experience. This is why it's important to choose a good gaming monitor.
But when the market is full of products claiming to be the best, it might become a little tricky to choose the right option for yourself, especially if you are working with a limited budget. So to help you a little in your quest, here are 5 gaming monitors that are both feature-rich and wallet-friendly at just $300 and less!
But don't just see the tag 'gaming'; all these 5 affordable monitors can be easily used to multitask and in different settings, whether you are at home or office. Now then, let's begin!
Top 5 Best Gaming Monitors Under $300
This is a 24-inch monitor with 1080p resolution and wide viewing angles. With 99% sRGB, it has good color accuracy to offer along with thin borders that not only maximize the visual area but minimize distraction and help blending the monitor against different backgrounds, so if you have certain aesthetics and themes you prefer, this monitor can easily assimilate in it without clashing with the surroundings.
The design is efficient and minimal, while the monitor stand can be fully adjusted in terms of tilt, height, and swivel, which means you can adjust the monitor exactly to your liking and comfort, with as many as 8 ports and slots, including HDMI, DisplayPort x3, Audio Out, and USB upstream and downstream both among others, the connectivity factor of this monitor is on the better side too.
Though with the 1080p resolution, the game settings may need some adjusting for the optimum experience overall, this monitor is good for gaming given the angles, anti-glare screen, and crisp, colorful display. Adding to that, the refresh rate of 60 Hz and a response time of 6 ms, in its price, it's good value for money.
Pros:
It comes with a fully adjustable metal stand that supports the monitor pretty well.

It is perfect for a dual monitor setup.
Cons:
It doesn't have built-in speakers.

It doesn't come with FreeSync, and the lack of a variable refresh rate can be a disappointment.
---
A 24 inch, ultra high definition (UHD) monitor with LG's IPS panel, this one is an all-rounder with a lot of promising features. This monitor comes with an adjustable curved stand that can be used to tilt the monitor to the user's preference and is reliable and stable. It also has HDMI and DisplayPort and an option for on-screen control along with a refresh rate of 60 Hz and a response time of 5 ms. 
The viewing angles are great too, and you can multitask easily with this monitor owing to the picture in picture (PIP) and split-screen options, which can divide the screen into 4 parts that you can resize according to your necessity and comfort.
Though it doesn't offer great color accuracy, it is a great product for gamers as it not only has FreeSync but also a number of other gamer-friendly features like different game modes, Black Stabilizer, and Dynamic Action Sync, among others. All this, in addition to the 2160p resolution and the varied screen control options, makes it a great value-for-money product.
Pros:
It comes with FreeSync, which prevents tearing and stuttering while gaming.

It has a matte anti-glare coating.

This monitor comes with a one year warranty.
Cons:
It lacks a USB port.

The response rate for FPS gameplay might fall short of being considered good for some.

It does not have in-built speakers, so you can't play sound directly.
---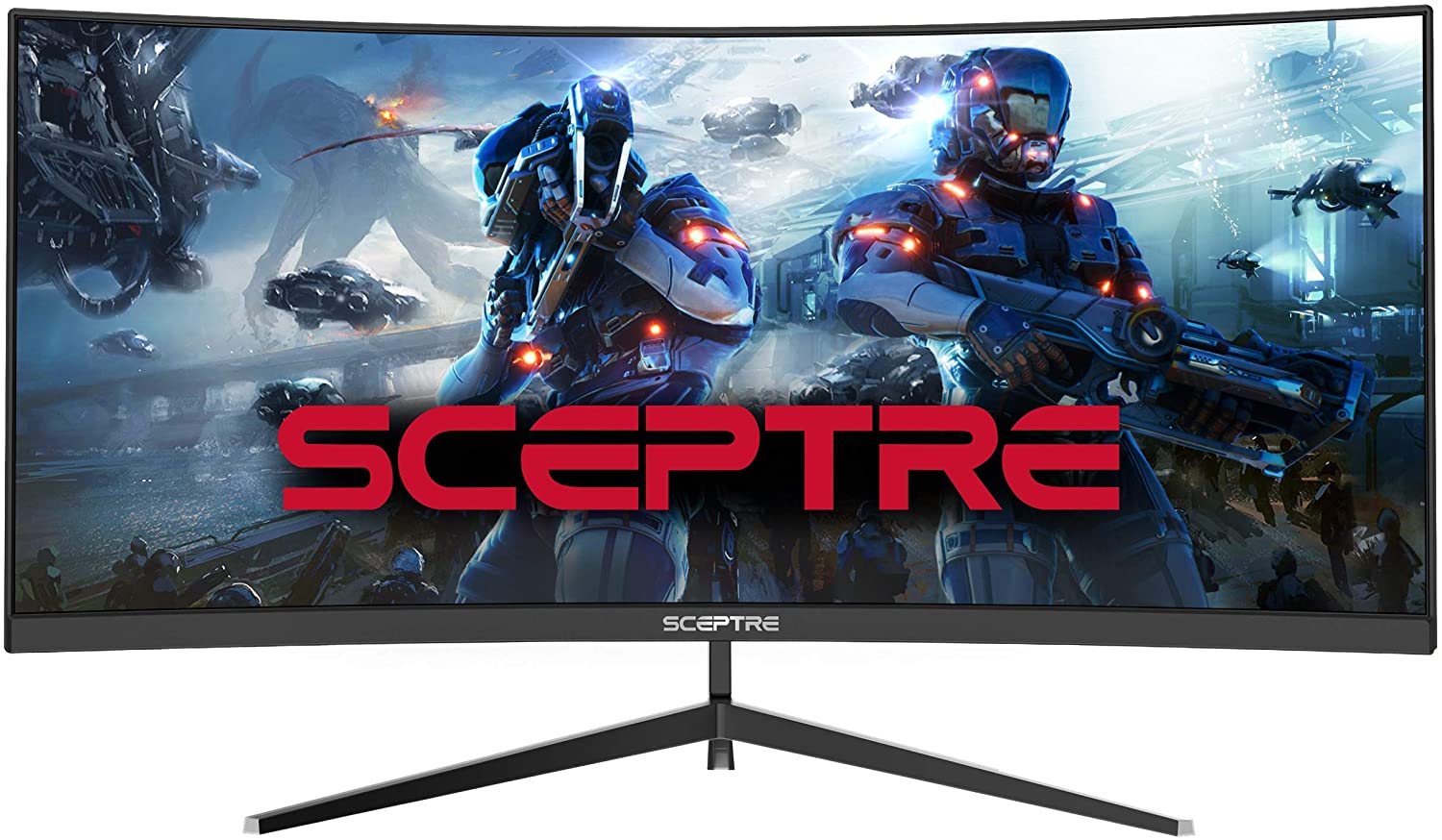 This monitor comes with a 30-inch curved ultrawide display and a number of quality features that ensure a great gaming experience. It has a refresh rate of 200 Hz and AMD FreeSync for variable refresh rate, in addition to the broad aspect ratio of 21:9, which gives a wider field of view. The VA (vertical alignment) panel offers an excellent contrast ratio and feels color-rich. It comes with 90% sRGB, which makes the display well-defined and rich.
It also has features like Blue Light Shift to protect your eyes and Anti-Flicker that keeps backlight from flickering. Both these features, along with the custom set display setting of FPS (First Person Shooter) and RTS (Real-Time Strategy), enhances the gaming experience, and it has a good response time to boot.
Other features that make this one stand out among other products in the same category is that it facilitates multitasking by offering a picture-in-picture option. When it comes to design, it's pleasant enough, and the monitor is supported by a good adjustable stand, which can be tilted as needed. 
The monitor comes with a one-year limited manufacturer's warranty, and it is a great gaming monitor with both top-notch display and sound and is pretty pocket friendly, which makes it one of the best choices to go for.
Pros:
It has an anti-glare coating.

It comes with good connectivity options with HDMI and DisplayPort.

The monitor has in-built dual speakers.
Cons:
The high refresh rate is only supported when DisplayPort is used.

The monitor stand only has a tilt function.

The absence of USB Ports can be a little inconvenient.
---
This 32-inch monitor from LG has a 99% sRGB color gamut (which means great color accuracy) and a QHD 1440p display with IPS Panel. It is HDR 10 compatible and comes with AMD FreeSync, which prevents tearing and stuttering while gaming. The viewing angles are just as great, and the on-screen control options make it a lot easier for the user.
It also has a refresh rate of 75 Hz and a response time of 5 ms along with good connectivity with HDMI port, DisplayPort, and audio out. In terms of design, the widescreen is accompanied by an ultra-slim built, which is virtually borderless on three sides. The stand has a stable and arcline design with adjustable tilt and is easy to assemble and install, even if you are going with the wall mount option.
It has a matte screen finish, and whether it's for general entertainment, office, or gaming, this monitor has a wide range of features suitable for any environment and purpose. When using it for long working hours, it has an option for using Reader Mode, which makes it easy on the eye and fairly comfortable. The split-screen options also help a lot while gaming or multitasking.
Pros:
Very affordable yet feature-rich, good value for money product.

Great for gaming and has features like Dynamic Action Sync and Black Stabilizer.
Cons:
It doesn't have built-in speakers.

The monitor stand only comes with a tilt adjust feature.
---
This one is a 27-inch ultra HD monitor with an IPS panel and excellent viewing angles. It also has a 109% sRGB color gamut, which makes it highly color accurate. It also has a 10-bit color display, as opposed to 8-bit in most other monitors, which makes the display deeper and more color-rich. 
All these features, in addition to the 4K and 163 PPI (Pixels per Inch) screen, gives us an overall rich display where the texts appear sharp and readable, hence making it a good fit for multitasking in any situation.
The design is minimal but elegant looking, and the narrow border display (which seems almost borderless) on three sides makes it a great option if you have more than two monitors you want to keep side by side because this design mixes well and doesn't really clash with others. Having narrow borders also means more viewing space. 
It comes with a reliable monitor stand as well and has decent connectivity options, including two HDMIs, a DisplayPort, and audio out. Also, the flicker-free technology and Multiview option makes it easier to multitask with this monitor, whether you are using it for professional work or entertainment purposes.
Pros:
It comes with a four-year warranty.

It is wallet-friendly and feature-rich.
Cons:
It doesn't have FreeSync.

The monitor stand has only a tilt adjust feature.
---
Conclusion
And that's it for my list of 5 Gaming Monitors Under $300. Since no two people or their preferences are the same, the products best fit for everyone are different too. For this reason, I won't recommend you to go for one specific product over another. 
Take your time, take a look at all the available options, weigh in the pros and cons, and then decide which one among these monitors is best suited for you personally. And if you get confused or feel indecisive in the process, don't worry, dear reader, you can just come back right here!
Happy Gaming!
Charles
Charles has been writing about games for years and playing them all his life. He loves FPS, shooters, adventure games like Dota 2, CSGO and more.