Do you have many cool ideas but don't have the possibility to implement them? Is your budget limited to hiring experienced art producers and paying them monthly? The most cost-effective solution is game art outsourcing, that is in high demand today. Some companies outsource regularly, while others use outsourcing services from time to time. It's up to you to decide which part of your project you'd like to outsource.
Outsourcing services are a great way to kill two birds with one stone. You can save both time and money. Are you familiar with the situations below? If yes, then it's high time to think about game art outsourcing.
4 Reasons for Hiring Art Game Production Studios
Everyone knows that creating art for games isn't as easy as one, two, or three. It may take you weeks or even months to hire talented specialists. Moreover, you should teach workers and explain what exactly they need to do. Each company has limited resources and time. That's why you should look for a reputable game art outsources if you've faced the following situations:
The task is one-time. It makes no sense to hire a person because after completing the task, they will have nothing to do when the project is completed. In this case, you can attract a freelancer. Still, the search and immersion in the work of a suitable specialist may be delayed, and the outsourcing service already has a pool of artists tailored for specific tasks.
You need to do urgent tasks. The contractor will take on all this work without time to recruit staff, conduct onboarding, and immerse people in their processes. Partially, this point overlaps with the previous one.
You need to do work that staff members don't want to do. Most often, this applies to tasks of the same type: for example, drawing icons. Of course, you can apply an administrative resource, but this may affect the quality of work. Routine tasks are most often outsourced. When you entrust repetitive work to experts, you will be able to focus on more important and interesting tasks.
Staff members have different competencies. Just because your in-house artists are great at drawing people doesn't mean they're good at technical drawing, and vice versa. Most outsources specialize in some specific work. It means that you'll get a top-notch quality result.
As you can see, outsourcing can be very helpful. However, you shouldn't outsource early when your artists work on a concept. At this stage, there is constant discussion, exchange of ideas, and the team must be deeply immersed in the project. Otherwise, the output may not be what the customer's representative would like to see. But when you've decided on a style, and you need to draw a lot of routine and monotonous things – thematic locations, holiday skins, events – outsourcers will come to the rescue, like Chip and Dale. You can outsource not only game art but also music and even codes. Forget about any hassle and entrust all research to experts.
Don't you have a full-time team of artists and do not want to hire one? Then, you can contact the outsourcing service at the very beginning of the development path. In this case, the work with the studio will be more dense, and the outsourcer's employees will have to be immersed in your internal processes.
You can also build your own freelance team if you have your own art director who has time to manage the freelance team. But in practice, this work can "eat up" the entire resource of the art director, leaving him no opportunity to engage in his main activity.
What Tasks Does the Outsourcing Studio Take On?
There are many famous companies that have achieved great success only because they've hired outsourcing studios. Sometimes, there is more than one studio. You must have heard that Guerrilla Games spent over 5 years for us to see Horizon: Zero Dawn. Can you imagine how long it could take without the help of 19 outsourcing services? It's just one of the examples that can help you to make the right choice.
See Also
The strategy of game outsourcing is rightly effective. Game development may require expensive tools and equipment. It's unreasonable to waste money on them if you don't need to use them regularly. When you hire an experienced outsourcer, you can be sure that the studio has all the necessary tools for game production.
To summarize, the outsourcer takes on the following tasks:
Art direction. Experts help the customer to get exactly what is required from the artists. This is especially important for developers with little experience.
Evaluation and selection of performers. After a conversation with the customer, the art director can understand what skills the artists should have and how to form a team-best.
Communication with artists in a language they understand.
Both small and large companies can benefit from outsourcing services. For small studios, working with game art producers allows them to do larger projects with limited resources. And for large companies, turning to an outsourcing studio is an opportunity to get the art of the required quality with the least amount of time and effort.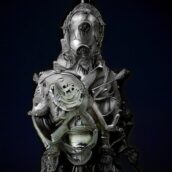 Joel
Joel is a whiz with computers. When he was just a youngster, he hacked into the school's computer system and changed all of the grades. He got away with it too - until he was caught by the vice-principal! Joel loves being involved in charities. He volunteers his time at the local soup kitchen and helps out at animal shelters whenever he can. He's a kind-hearted soul who just wants to make the world a better place.