Instagram is one of the most popular social media platforms for sharing content supported with images and videos. A comfortable exploration and navigation format helps us stay in touch with the most relevant content creators, follow their collaborations, and stay in touch with the best content.
Because so many internet users see Instagram as a multifunctional platform for not only entertainment but also news and marketing. Many followers gravitate towards products advertised by their favorite content creators, and different influencers can target the niches that align with their brand, content, and values.
For both private users and social media managers, Instagram accounts are becoming valuable marketing assets and ensuring their growth is a priority for successful advertisement.
Still, Instagram is not a perfect platform. First of all, it has strict limitations that restrict your account if you want to grow it faster. Also, the platform has bugs and errors that negatively affect its use, and the instability can hinder marketing efforts.
In this article, we will discuss the most common problems users face while working with Instagram and go over internet privacy tools that help us avoid such scenarios in the future, including IP bans & blocks.
Challenge_Required Error
The challenge_required error prevents the owner of the account from interacting with Instagram followers. Smartproxy, the leading industry supplier of proxy servers, provides an in-depth guide about the challenge_required error and how to fix it, as account users lose profitable management hours.
These limitations are usually triggered when you or the manager of your accounts starts liking too many pictures, leaving too many comments, or sending too many follow requests. By identifying these bot-like patterns, Instagram steps in to make sure that these actions are performed by real users, not automated software. Other circumstances include constant logins for new devices, action buffering due to slow internet, or poor server connectivity.
Here are the most common approaches that solve the challenge_required error:
Prove it is You
The challenge_requred warning comes with provided steps to verify your identity. Follow these steps:
• Connect to your account on a different platform
• Verify your identity on a new device
• Reset your password
• Use two-factor authentication
Connectivity Problems
If the error is caused by a slow or unstable internet connection, follow these steps to troubleshoot the problem:
• Run your connection through an internet speed test
• Change your network type, use a different Wi-Fi
• Restart your router
Other Solutions
If the aforementioned solutions don't do the trick here are additional solutions that help filter out most Instagram issues:
• Restart, update your reinstall your Instagram app
• Clear the cache
• Change your IP address with a proxy server
Instagram Feedback Required
The 'Feedback required' error is a very similar error that is triggered by the same conditions – unrealistic user behavior. This problem is usually tied to the user's IP address and fades after 24 hours.
Still, if the problem persists, the same solutions that have worked for the challenge_required error achieve the same goals here as well.
'Couldn't Load Image' Error
The 'Couldn't Load Image' error occurs when the account manager uploads an image that fails to load on the platform. In some cases, these are false alarms caused by connectivity problems. However, if the problem persists, the size or format of your image might be at fault.
To solve this error, try resizing or changing the format before re-uploading the image.
'Not Receiving Notifications' Bug
If you are not receiving Instagram notifications about incoming likes, comments, the introduction of new followers or approved follow requests, try to change the notification settings on your app or browser. If nothing changes, reinstall the app and check again.
How to Stop Errors Triggered by Bot Behavior
Because Instagram has strict control over users to ensure organic behavior and minimal presence of bots, many of the errors above are caused by social media managers using automated software. Still, some of the issues bleed into the regular use of the app.
To stop the errors triggered by bot-like activity, the average user should abstain from liking, commenting, and following users too quickly. Maintaining a realistic profile is the best way to minimize the appearance of errors.
However, for social media managers that work with bots to scale up marketing efforts, proxy servers are the best tools to avoid Instagram triggers. By diversifying bot actions, setting them up in irregular patterns, and changing the connected IP address at the most relevant time intervals, you have more control over other automated activities.
Summary
While there are many Instagram errors that negatively affect the experience on the app, most of them are enforced by anti-bot algorithms. Verifying your account, running an organic profile, and protecting frequent actions with proxy servers will help you avoid flagging for the foreseeable future.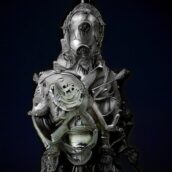 Joel
Joel is a whiz with computers. When he was just a youngster, he hacked into the school's computer system and changed all of the grades. He got away with it too - until he was caught by the vice-principal! Joel loves being involved in charities. He volunteers his time at the local soup kitchen and helps out at animal shelters whenever he can. He's a kind-hearted soul who just wants to make the world a better place.