GameFi is the latest trend within the gaming industry, including elements of decentralized finance that leverage blockchain features. This new sector helps gaming ecosystems to operate through blockchain technology and digital assets that aim to broaden possibilities for monetization and enhance players' experiences.
These games use cryptocurrencies (mostly Bitcoin and Ethereum) or governance tokens for transactions, so you first need to add coins to your digital wallet to find where to buy Ethereum to benefit from the best rates from exchange platforms.
GameFi is linked with play-to-earn games, which offer different types of rewards, from digital coins to assets like virtual land and avatars. Such a system fits everyone's needs, as some gamers might only look for ways to fund their in-game purchases while others are trying to make a good penny out of these decentralized games.
Considering these features only, there is a high chance that GameFi is the future of gaming. Here's why.
Image source: https://pixabay.com/ro/photos/calculator-tastatura-jocuri-de-noroc-1844996/ 
GameFi Offers What Traditional Games Lack
GameFi can also be approached by regular gamers but is easier to navigate as a stakeholder, developer or investor. That's because this gaming category is focused on incentivization, besides having fun, allowing the industry to give back more than entertainment to players.
GameFi is based on decentralization, which alone ensures increased security and improved network connection. Besides that, here are the advantages of GameFi:
You've got true ownership of your assets, meaning you can control and possess your in-game assets forever. On the other hand, in traditional gaming, you don't manage your in-app purchases that easily;
You can earn passive income by playing. GameFi provides opportunities for being incentivized from in-game assets through DeFi protocols that offer the chance to engage with liquidity pools and yield farming, through which you can earn dividends and certain fees;
You benefit from innovative games and features. Decentralization is mainly maintained by modes all over the world that work to make the environment better. Therefore, these ecosystems will always develop as the interest in their condition increases;
Take Full Advantage of GameFi
Blockchain gaming can leverage great opportunities for anyone interested, but considerable effort should be made to make serious money. So, there are some ways to boost your incentivization game through GameFi:
Know that games have a greater purpose than income. Although many investors enter this sector intending to earn money, there's more to it. If you don't enjoy playing games and are only focused on making money, there are fewer chances you'll reach your target. This is why you should focus on improving your skills and strategy to improve at games. It's also advisable to look for high-quality gameplay;


Look for games that approach NFTs, SFTs and smart contracts, as their features will make it easier to diversify a portfolio based on in-game assets. These features allow cross-platform compatibility, which helps benefit from the blend of multiple games and applications;
Best GameFi Projects to Invest Into
The market offers so many NFT-based or Web3 games that it is already saturated with the increased supply compared to the slow but steady demand. However, some projects stood the test of time and proved their value to be for the long term. Here are some of the most famous GameFi ecosystems.
Axie Infinity, One of The Most Expensive Play-to-earn Game
Axie Infinity was deployed in 2018 and was one of the first NFT games that turned into massive ecosystems with millions of users. The players need to collect and mint NFT digital pets (Axies) that can be used for breeding and battling. The Ethereum-based gameplay is, however, one of the most expensive to experience. As you sign, you need two wallets (Ethereum and Ronin) and an account through which you'll need to buy three Axis to access the game and Ethereum also. This expansive universe values so much now, but the time for investment is long gone for beginners.
Decentraland, The Project Where Land is The Most Important
If you have heard about people buying NFT parcels of land representing real-world areas, you must know that games focused on this practice exist. In Decentraland, you buy virtual land with MANA, the native token. Later on, the place can be monetized after the creation of buildings or other assets on that land to earn more MANA in return. This game is also built on the Ethereum blockchain.
Latest Innovative GameFi Projects
Besides entertainment, GameFi approaches many other sectors that broaden the industry. That's because GameFi is more about incentivization rather than only having fun. But to earn cryptocurrencies or tokens, you must complete certain tasks.
For example, Meland AI is an ambitious GameFi platform blending with the earn-to-learn model. Navigating this platform, you'll see how to earn money by learning different subjects. Meland AI already provides all the knowledge, resources and backgrounds gathered from worldwide support.
There's also Mouse Haunt, a PVP game where you can design labyrinths for others to play and solve. An NFT backs the character you play and can be traded on the game's market, and their values are given by the stats showing how many challenges they have solved. This is also an innovative way for people to engage by challenging each other.
Of course, with the rise of technological advancements, games like NETVRK approach VR in the GameFi ecosystem, but this is a pretty expensive experience since the gear is pricey. The metaverse or NETVRK allows you to earn tokens that can be used to buy assets within a certain world. You can earn in-game rewards by playing in the mines and connecting with other players.
Final Thoughts
GameFi is one of the most innovative sectors that change how gaming is experienced worldwide.
Although it can be enjoyed only with upfront investments and high-priced tools, the area will develop and change how we see entertainment and earning in-game assets. Given the increased demand for such fun things to do, investors and developers could promote their ecosystems as true and valuable for those who want to experiment with making money through decentralization.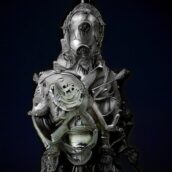 Joel
Joel is a whiz with computers. When he was just a youngster, he hacked into the school's computer system and changed all of the grades. He got away with it too - until he was caught by the vice-principal! Joel loves being involved in charities. He volunteers his time at the local soup kitchen and helps out at animal shelters whenever he can. He's a kind-hearted soul who just wants to make the world a better place.