Piggy Boom is the ultimate coin master game. It allows the players to experience the excitement associated with raiding, stealing, and attacking islands. The players need to create havoc to collect coins and become the wealthiest. 
Clearly, this game is an exciting all-in-one package. And that makes it so loved by players worldwide! But, if you want to play other games like Piggy Boom, then we are here to help. Given below is a detailed list consisting of some equally thrilling and adventurous games like Piggy Boom. So, read on to find out some great alternatives to Piggy Boom.
Games Like Piggy Boom
Coin Dozer: Haunted Ghosts
Coin Dozer: Haunted Ghosts is a fun yet spooky game where you need to drop coins and collect them. You will be rewarded with creepy prizes and tokens in return. Hunting down ghosts could be very thrilling especially when you are rewarded with coins for the same.
The game has several scary Halloween themed elements like ghouls, Dracula, zombies, etc. The ghost coins and moon coins provide you with the much-needed boost. Collecting a moon coin will initiate the Full Moon Mode which in turn will increase the value of all coins and rewards.
Hamster Life
Raising a hamster has never been more fun! Hamster Life is an interactive pet-rearing video game. Here you can play with your virtual pet hamster, give food to it and even touch the cute little being.
You can also make your hamster run on the wheels. Now, every time you care for your hamster by providing it with food or playing with it, you will get coins. In case, your hamster's stomach is full, then it will take the excess food to its home.
Piggy GO- Clash of Coin
This is one of the most fun and easy to play games like Piggy Boom! Piggy Go-Clash of Coin also features a cute pig who embarks on an adventure just like in Piggy Boom. It's a free game published by Forever9 Games that you can play on your Android device.
An exciting game where you just need to roll a dice to travel all over the globe. Millions of players all over the world are playing the game along with you. There are several elements of thrill in this game. Looting money and gold, attacking cities, escaping, and finally collecting the jackpot! You see, an amazing adventure is awaiting you.
Also, Read Top 10 Games Like Pirate Kings
Crazy Coin
Fluffy, the bandit wants you and each one of your friends to join him on a crazy coin collecting spree. This is a puzzle-based game released by Teen and is compatible with all Android platforms. Not only is this game loved by kids, but it is parent-approved as well. The reason is that it focuses on mental sharpness. Only the brightest child will win the game.
You just need to spin the wheel to test your luck. Besides getting rewarded with coins and defense equipment, there are several more exciting prizes waiting for you. Along with several mind-exercising tools like crosswords, quizzes, riddles, etc. you also get to be a warrior here.
Coin Boom
Join the fun ride of Coin Boom with your friends as you stack coins and discover the world. Coin Boom is all about building your own island from scratch to become the ultimate master of the game. Developed by Candy Grill and released by Teen, Coin Boom has a high rating of 4.5 on Google Play.
With every spin, you will earn loads of coins which you can use to construct a land of your own. Visit several villages and fight against friends and enemies to gain the title of the best coin master. Moreover, there are not many morals here in the Coin Boom world. You can attack, raid villages, and also steal. All methods are justified here as long as you get more coins.
Pirate Coin Master: Raid Island Battle Adventure
If you love fantasy, pirates, and riches, then this game will be a treat to your senses. Pirate Coin Master: Raid Island battle Adventure was developed by CookApps and published by Teen. It is one of the best games like Piggy Boom with a Play Store rating of 4.5/5 stars.
So, do you want to become the wealthiest pirate in all of the seven seas? If yes, then here is your chance at it. An exciting pirate journey that you cannot miss! Make a fleet and set your crew to sail on the ocean. Raid islands and shipwreck others to plunder and loot all their treasures.
Coin Adventure – A Reel Good Time
Rated 4.5/5 stars on the Play Store, Coin Adventure is one of the most similar games like Piggy Boom, if not better. It was developed by Greatjob Games and invites you on an adventurous looting journey.
Coin Adventure: A Reel Good Time allows you to experience the thrill and fear associated with raids, loots, and attacks. You need to defeat all other thieves and lurking enemies to become the best player. Also, you can attack the lands of your friends and other players to garner a massive amount of loot.
Lucky Buddies
If you're looking for more coin games, you should give Lucky Buddies with a 4.6 rating (On Google Play) a shot. You join the Lucky Buddies team and get started on a long and adventurous quest of returning some loot to their rightful owners. Think there's no excitement in being a goody-two-shoes? This game might prove you wrong. 
The enemies are called Pi-rats, and you must undo their doings as well as perform routine attacks on them. You can add more buddies to build your clan or join an existing one. There are many more rewards for playing in a clan, and it's also just more fun. You can steal coins from your friends, but don't expect them not to retaliate!
Coin Tycoon
If you like coin games and fantasy, Coin Tycoon might as well have been made for you. You play the game as an elf, and you can spin the slot machine to see how lucky you get. You'll always earn rewards, but they vary every time. You can keep collecting gold coins until you've earned yourself the title of the coin tycoon.
Through playing more, you also win collectible cards that have different powers. Some of these include giving you more chances to spin, in turn earning you more coins. There's also lots of opportunities for exploration, you can put those gold coins to good use by getting to time travel and visit different eras. 
Coin Beach
This coin game has an exciting coastal flavor to it! Feel like you're on vacation and earning money in this game. You don't need to spend real money to earn an incredible amount of in-game gold coins. All you need to do is to spin that slot machine!
You can be whoever you want to be in coin beach, royalty or even a cute animal or creature. You get to explore the lands and travel wherever you want to unlock the game's hidden territories. The game is extremely well-received by players, earning itself a 4.7 rating on Google Play. This game is also fun played with friends. 
Coin King – The Slot Master
You can play Coin King – The Slot Master with your Facebook friends. But this game is so much more than just spinning the slot machine: you also get to build your own villages and raid other villages! Make sure that you protect your golden goose: the slot machine, as neighbouring villages can and will try to steal it!
You can be blind to friends and enemies and loot them all alike, just for that extra coin. It's fun since you're always keeping score with your friends, raiding and raiding back until no one knows what belongs to who anymore. 
Spin Voyage: raid coins, build and master attack!
Spin Voyage: raid coins, build and master attack is the closest you could get to a modern casino. It's free to play, and you can spin the slot machine to check your luck! Like the other games on this list, you can also build villages and slowly ascend the ranks to become one of the mightiest kings in the entire empire. You slowly take control over villages near your empire and that's how you expand. Play with your friends for an even more exciting experience. 
You also get to play as a pirate: and yes, you get to have a parrot. There are a number of exotic locations you can travel to and marvel at, Las Vegas, Paris, New York, and beaches everywhere. 
Lords of Coins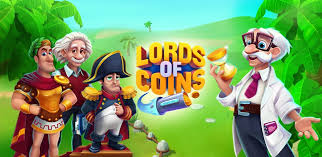 Lords of coins is an early access app, it's still in development, but already has attracted a following of players for itself! The game is a giant exciting adventure where you get to build your own island. The story revolves around a funny little professor who has unfortunately crashed his ship and landed on a mysterious island. You help him out by travelling through space and time to explore scientific discoveries, different cultures and historical landmarks. 
Of course, you keep spinning the slot machine throughout the game: because these valuable gold coins are what allows you to construct massive islands of your dreams. You are only limited by your imagination, and you can make as many as you would like. 
Soda Coin Party Dozer
Soda Coin Party Dozer is a coin game where you actually get to choose what to do with the coins. If you put them into the bank, your score is boosted. But if you decide to do a good deed and throw the coins into the gutter for someone to get lucky and find them later — your karma is boosted. Having karma on your side is a good deal too, it increases your chances of higher rewards later. 
There are great 3D graphics in the game, and the prizes that you win are adorable and goofy. It's very addicting as well. There are 9 special chips that all have a unique effect in giving you some kind of level up in the game. 
Coin Farm
Another addictive coin game that can be played with your Facebook friends, Coin Farm is all about trying to become the best Coin Master and raiding all the villages to do so!
It's all about farms in this game, you spend your coins in buying more farms and growing your ranch. 
And you don't have to stay in your home with your cozy country life as you earn more, you can travel all around the world! You even get to have a taste of fantasy in some of the interactive fairy tales, and bet on sporting events that take place in exciting new locations. 
Final Words
Piggy Boom is undoubtedly one of the most loved coin collecting games so far. But, if you ever wanted to play some alternative games check online slot game Malaysia and the list above will help you out. All the mentions in this list are very alike Piggy Boom and some are even better. Enjoy trying them out!
Charles
Charles has been writing about games for years and playing them all his life. He loves FPS, shooters, adventure games like Dota 2, CSGO and more.