Games Like 13 Sentinels
If you're a fan of the game "13 Sentinels: Aegis Rim" and you're looking for similar games to dive into, you're in luck! There are several other titles out there that offer a similar experience of storytelling, strategy, and engaging gameplay. Whether you enjoy the sci-fi elements, the time-traveling narrative, or the mix of visual novel and tower defense mechanics, these games will surely captivate your interest.
One game that comes to mind is "Steins;Gate." Like 13 Sentinels, it features intricate storytelling with multiple branching paths and an emphasis on time travel. Set in modern-day Tokyo, Steins;Gate follows a group of eccentric scientists who accidentally discover a way to send text messages into the past. As they unravel the mysteries surrounding their invention, they find themselves caught up in a web of conspiracies and must make difficult choices that have far-reaching consequences.
Another title worth exploring is "Fire Emblem: Three Houses." While it may seem different at first glance with its medieval fantasy setting and tactical battles, it shares similarities with 13 Sentinels when it comes to character-driven narratives and strategic decision-making. In Fire Emblem: Three Houses, players assume the role of a professor at an academy where students from three rival nations attend. As you guide these students through their education and lead them into battle against political turmoil and supernatural threats, deep relationships form between characters and shape the outcome of events.
With these recommendations in mind, you'll be able to embark on new gaming adventures that capture the essence of what made 13 Sentinels so special. So grab your controller or keyboard and immerse yourself in these captivating worlds filled with rich storytelling and compelling gameplay mechanics.
Similar Games to 13 Sentinels
If you're a fan of the captivating storytelling and strategic gameplay found in 13 Sentinels, you'll be delighted to know that there are several other games out there that offer similar experiences. Here are a few recommendations for games that capture the essence of 13 Sentinels:
Persona 5: With its intriguing narrative, memorable characters, and blend of turn-based combat and social simulation, Persona 5 is often hailed as one of the best JRPGs of all time. Just like in 13 Sentinels, you'll find yourself immersed in a rich world full of secrets to uncover and relationships to build.
NieR: Automata: This action RPG combines breathtaking visuals, an emotionally charged story, and intense combat sequences. Like 13 Sentinels, NieR: Automata explores deep philosophical themes while keeping players on their toes with its non-linear narrative structure.
Zero Escape: Virtue's Last Reward: If you enjoy the mystery-solving aspect of 13 Sentinels, this visual novel puzzle game hybrid is a must-play. Immerse yourself in a twisted tale filled with mind-bending puzzles and difficult choices that will shape the outcome of the story.
Fire Emblem: Three Houses: For those who appreciate tactical gameplay and character-driven narratives, Fire Emblem: Three Houses delivers both in spades. Build relationships with your students at Garreg Mach Monastery and lead them into strategic battles reminiscent of the Sentinel fights in 13 Sentinels.
Steins;Gate: Dive into an intricate sci-fi adventure where time travel takes center stage. Steins;Gate offers an engaging plotline with well-developed characters and multiple branching paths that will keep you guessing until the very end.
These games provide similar elements to what makes 13 Sentinels so compelling – immersive storytelling, thought-provoking themes, and gameplay mechanics that keep you invested. Whether you're seeking intense combat, intricate puzzles, or deep character relationships, these titles will surely satisfy your craving for captivating gaming experiences.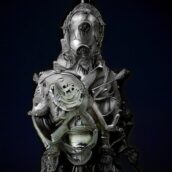 Joel
Joel is a whiz with computers. When he was just a youngster, he hacked into the school's computer system and changed all of the grades. He got away with it too - until he was caught by the vice-principal! Joel loves being involved in charities. He volunteers his time at the local soup kitchen and helps out at animal shelters whenever he can. He's a kind-hearted soul who just wants to make the world a better place.