Is it Safe to Eat Lettuce that is Turning Brown
Iceberg lettuce is a popular choice for salads and sandwiches due to its crisp texture and refreshing taste. However, there may be instances when you notice discoloration on the leaves, particularly a turning brown hue. This can leave you wondering whether it's safe to consume lettuce that is exhibiting signs of browning.
When it comes to discoloration on iceberg lettuce, it's important to understand the underlying causes. Browning of lettuce can occur due to various factors such as exposure to air, bruising during transportation or handling, or even natural oxidation processes. While these factors do not necessarily indicate spoilage or contamination, they can affect the overall quality and appearance of the lettuce.
Causes of Discoloration on Iceberg Lettuce
Iceberg lettuce, with its crisp texture and refreshing taste, is a popular choice for salads and sandwiches. However, when you notice discoloration on your iceberg lettuce, it's natural to wonder if it's still safe to eat. In this section, we'll explore the causes of discoloration on iceberg lettuce to help shed some light on this perplexing issue.
Oxidation: One common cause of discoloration in iceberg lettuce is oxidation. When the cut edges or damaged portions of the lettuce are exposed to air, they react with oxygen and can turn brown. This process is similar to what happens when you slice an apple and leave it out for a while. While oxidation doesn't necessarily make the lettuce unsafe to eat, it can affect its appearance and taste.
Bruising: Another factor that may contribute to discoloration on iceberg lettuce is bruising. Handling or transporting the lettuce roughly can cause internal damage, leading to browning in those areas. It's essential to handle iceberg lettuce with care during harvesting, packaging, and transportation to minimize bruising and maintain its freshness.
Age: Like any fresh produce, iceberg lettuce has a limited shelf life. As it ages, the leaves may start wilting and turning brown or discolored due to natural deterioration processes like enzymatic browning or microbial growth. Pay attention to the expiration dates or recommended storage times provided by the seller or manufacturer to ensure optimal freshness.
Exposure to Ethylene Gas: Ethylene gas is naturally produced by certain fruits (such as apples) as they ripen and can accelerate spoilage in vegetables like iceberg lettuce if stored together in close proximity. If your iceberg lettuce comes into contact with ethylene-producing fruits or vegetables during storage at home or in transit, it may experience faster discoloration.
To mitigate these causes of discoloration, it's best to store iceberg lettuce in a cool and dry place, away from ethylene-producing fruits. Additionally, inspect the lettuce thoroughly before consumption, discarding any parts that appear overly brown or slimy.
Common Types of Brown Discoloration
When it comes to iceberg lettuce, encountering brown discoloration can be quite perplexing. Is it safe to eat lettuce that is turning brown? Let's delve into the common types of brown discoloration and shed some light on this issue.
Oxidation: One of the primary causes of brown discoloration in iceberg lettuce is oxidation. When the inner layers of the lettuce are exposed to oxygen, they undergo a chemical reaction that leads to browning. This type of discoloration usually occurs when the outer leaves have been removed or damaged, exposing the inner layers to air.
Bruising: Another common cause of brown spots on iceberg lettuce is bruising. Handling and transportation can sometimes result in slight injuries to the leaves, causing them to turn brown in those areas. While these bruises may not pose a health risk, they can affect the overall appearance and quality of the lettuce.
Age: As iceberg lettuce ages, it naturally starts showing signs of deterioration, including browning. The longer it sits after being harvested, whether at home or during transit, the higher the chances are for discoloration to occur. It's important to note that while aged lettuce may not be visually appealing, it doesn't necessarily mean it's unsafe to consume.
Disease and Decay: In rare cases, brown discoloration on iceberg lettuce could be an indication of disease or decay. Bacterial infections or fungal growth can cause browning and spoilage in certain parts of the plant. If you notice extensive browning accompanied by sliminess or foul odors, it's best to discard such contaminated lettuce as consuming it could lead to foodborne illnesses.
In general, small amounts of isolated browning on iceberg lettuce are typically harmless and can be trimmed off before consumption without any major concerns for safety or flavor quality. However, if you encounter widespread discoloration along with other signs of spoilage, it's advisable to err on the side of caution and discard the lettuce.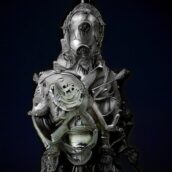 Joel
Joel is a whiz with computers. When he was just a youngster, he hacked into the school's computer system and changed all of the grades. He got away with it too - until he was caught by the vice-principal! Joel loves being involved in charities. He volunteers his time at the local soup kitchen and helps out at animal shelters whenever he can. He's a kind-hearted soul who just wants to make the world a better place.