10 Best Bezel Less Monitor 2020 – Thin Bezel Monitors
Looking for reviews of the best bezel less monitor that can give your multi monitor setup an amazing look?
There are different kinds of monitors like the smallest or thinnest bezel monitor, some are ultra thin bezel 4k monitor or even zero bezels. Some brands have monitors which are not actually bezel less but they are still selling which barely met the standards.
Many monitor manufacturers have begun using a frameless monitor design that uses rounded edges on the limit of the frame. Usually, monitors with these frames will appear with almost no bezel at all.
The thin bezel has real benefits to casual PC or console users as well as professionals, and gaming enthusiasts. An edge-to-edge screen design helps to remove the glare and gives content a more immersive experience. This bezel-less transition can make the monitor set-up appear to be one massive ultra-wide monitor that can give you an immersive experience.
The good news is much leading manufacturing offers great bezel-less monitors for casual PC gaming or console gaming in a variety of features and sizes. With so many different types of thin or bezel-less monitors out on the market, it can be difficult to choose a frameless monitor for your setup.
We have read 100's of reviews, eliminated inferior models and below are our recommendations for the best thin or bezel less monitors to purchase in 2020
10 Best Bezel Less Monitors –
---
1. Dell UltraSharp U2715H – Best Bezel Less Monitor Overall
The Dell UltraSharp U2715H is a higher-end bezel less monitor option with an IPS panel included. This monitor is designed to provide the highest quality color and performance for the thin frame monitor lineup.
The U2715H is a very bright monitor with a contrast ratio of 1000:1 and this gives the consumers a very clear workspace that provides the wide viewing angles needed for many content creators.
With a 27 inch screen and a resolution of 2560 x 1440p, it creates extreme visual accuracy that is aided by the thin frame around the outside. With multiple monitor setups, this monitor will work very well, as the size of the screens provides a truly immersive experience.
With multiple ports, the U2715H is adaptable to many different uses and will remain compatible with all devices. The only downside to the U2715H is that there is an 8ms response time. This can be slightly slow for strictly gaming purposes, but for anyone doing video editing or content creation, this is an ideal monitor for their usage.
---
2. AOC 12267FW – Budget Bezel Less Monitor
Typically frameless or bezel less monitors can be quite expensive, and it can be hard to find a solid budget option that is still high quality. The 12267FW is a great budget monitor that features an IPS panel. It is difficult to find IPS panels on one of these thin-framed monitors and the AOC 12267FW comes in at a screen size of 22 inches. This allows the monitor to fit in tighter spaces.
With a 5ms response time, It is good enough for gaming and entertainment purposes. Since this monitor has a slim frame, it is good to include it in multi-monitor displays setup.
While the performance of this monitor won't be as good as other IPS panel monitors, it is the best for its price range and will still outperform most other TN panel monitors in the same range. For a great price, this Full HD 1920 x 1080p monitor can be a great choice for anyone to upgrade their monitor setup.
---
3. Acer Predator XB271HU – Best Value Bezel-Less Gaming Monitor – 27 Inch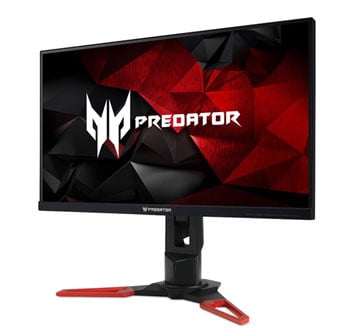 Since we have listed a couple of bezel less monitors designed for content creation, editing and designers, this one is for gamers. The Acer Predator XB271HU is a thin-framed gaming monitor that has been designed from the famous Acer Predator series of gaming hardware.
Featuring Nvidia G-Sync technology, 144Hz refresh rate, and IPS panels technology, the XB271HU ticks all the boxes that a gamer would want from this monitor. This monitor is excellent in reducing screen tearing and stuttering and will help to provide one of the best gaming experiences possible from the borderless monitors on the market.
It comes with a 1440p resolution, giving higher details and depth to any games than a 1920 x 1080p monitor can. With extra custom settings and a 1000:1 contrast ratio, this monitor is truly one all gamers would want in their own monitor setup.
---
4. Acer SB220Q – Full HD Frameless Monitor
The Acer SB220Q is a frameless monitor designed with the aesthetic framework in mind, It is a farsighted bezel less monitor that features the thin frames with Full HD resolution. It has many different ports for compatibility including HDMI, and it also has audio jacks for headphones and speakers.
With the IPS panel, this monitor has good color accuracy with an average contrast ratio of 510:1. The color accuracy for the SB220Q is one of its main selling features, as it has a color error rate of 1.01 (lower is better, and below 1 is unnoticeable by humans). This makes it one of the top choices on the monitor market for color accuracy.
If extra customization is needed, then the SB220Q has a multitude of buttons on the underside of the monitor, allowing further alteration of the monitor's color and brightness settings. Overall it is a beautiful looking monitor that can be great for any content creators and designers that need perfect color accuracy in their work.
---
5. ASUS ROG Swift PG27A – 27 inch 4K Bezel-Less Monitor
The ASUS ROG Swift PG27A is one of the highest quality gaming monitors on the market today. The ROG Swift series is known to produce top quality monitors in gaming and the PG27A is no different. It offers 4k resolution and is equipped with Nvidia G-Sync technology. There are very few frameless monitors that can compete with PG27A.
A thin 5mm frame makes it an excellent choice for dual monitor setups. With a 27-inch screen and an IPS panel, PG27A provides max clarity and color accuracy with beautiful 4k resolution.
All of the other features of the PG27A are top of the line except the refresh rate. It features a 4ms response time, which is higher than other monitors designed for editing and content creation, but it is slightly lower than the optimal performance for other monitors made for gaming.
With G-Sync technology, you won't see any screen tearing and artifacts. Overall, the PG27A is one of the top gaming monitors on the market for high end performance and perfect for your bezel less monitor setup.
---
6. Acer R240HY – Affordable Bezel Less Monitor 24 Inch
The Acer R240HY is one of the best budget monitors on the market for those looking for a borderless monitor. It is by far the cheapest in this list and still provides good quality and features for its price.
The R240HY is a 24-inch monitor featuring IPS panels technology, even for this price. It is not a super flashy design with lights and other features, but it provides the basic borderline design that is becoming ever more popular. It has the essential ports such as HDMI and the DVI. The R240HY has extremely easy access to the connectivity ports in the back due to its simple design and outward facing design.
The R240HY is one of the top budget options compared to other monitors due to its convenient features. It is extremely easy to set up, has good color accuracy and reproduction, and still has very good wide viewing angles.
It has good picture quality and provides high accuracy and vibrant colors. It has low input lag and fast response times, making it suitable for gamers too. Overall, a good and reliable budget alternative that is a very appealing option for someone looking to upgrade their monitor setup with an affordable choice.
---
7. LG 27UD68-P – Thin Bezel Monitor with USB-C
The LG 27UD68-P is another thin framed monitor on this list that has the USB-C capability. This 27 inch monitor has an ultra-thin frame design with IPS panel technology. This monitor offers 4K resolution, and with the AMD FreeSync technology which suits perfectly for gaming and entertainment purpose.
This monitor displays 99% of the SRGB pixel colors which provides excellent color accuracy and diversity needed for professional content creators, designers, and editors.
With the 60Hz refresh rate and 5ms response time, you can use it for both gaming and entertainment purposes. With the AMD FreeSync technology, you won't see any screen tearing or ghosting while playing fast-paced games. It is not exactly a budget monitor, but it is not expensive either.
---
8. Acer Predator X34 – 34 inch No Bezel Monitor for Gaming
The Acer Predator X34 is one of the high end options in this list. Since it is an Acer Predator variant, it is designed for the gaming market. It comes with a massive 34-inch 1440p display, and also comes with Nvidia G-Sync support. It also has extremely fast refresh rates, which can be overclocked to up to 100Hz.
It has extremely high color accuracy and covers 98% of the SRGB color scale. This is a curved IPS display, meaning that with the size and shape of this monitor, you will be more immersed while gaming than ever before.
It provides qualities that flat monitors cannot, and is even fantastic for movies and cinematic scenes. The Nvidia G-Sync makes sure that the monitor does not have any screen tearing, and even in the most dynamic and demanding games, there will be no lag and ghosting.
Finally, this monitor has excellent visuals that gamers want for their setups. Not only does it have a thin frame, but the X34 also has beautiful LED lighting and the classic Predator logo that everyone knows and loves.
---
9. ASUS MX27AQ – Eye Care Frameless Monitor
The MX27AQ is a 27-inch monitor made by ASUS and is designed for gaming. With an IPS panel, it provides good color accuracy and brightness while reducing screen tearing and stuttering.
However, this is not the main thing that gamers are focused on when purchasing a bezel less gaming monitor. While it is still nice to have those features, the demand from gamers is picture quality and responsiveness.
You won't expect quality speakers installed in any thin framed monitors. But The MX27AQ has it installed, although not as good as external speakers. With decent contrast ratios, high color accuracy, and a 5ms response time, the MX27AQ has all the features a gamer would want from a quality monitor. It also has 3 HDMI ports to support all types of devices.
It also has ASUS Game Mode technology allowing you to tweak your settings to whatever genre of game you are playing to best suit your gaming experience. For a decent price as well, it is one of the most affordable monitors in this range for high quality bezel less monitors.
---
10. Acer H277HU – Thinnest Bezel Monitor
The Acer H277HU features a 27 inch screen with an IPS display panel. It has USB-C connector compatibility, which is one of the more rare things to see on a thin frame display. The H277HU's widescreen display makes it ideal for designers, gamers, and general use.
With the 1440p resolution, this monitor has wide viewing angles of 178 degrees than monitors that have a 1920 x 1080p resolution. This monitor almost has no frame at the end making it one of the clearest viewing displays.
The H277HU excellent color accuracy and adjustable controls to further customize. It has a good 4ms response rate, which is excellent for gaming and entertainment purposes.
---
Frequently Asked Questions
---
What are thin bezel monitors?
Thin bezel monitors have a smaller frame surrounding the edge of the screen. They are ideal for multiple monitor setups as they are good at keeping the transition between the two screens very smooth and seamless.
Thin bezel monitors for gamers?
These types of bezel monitors can be used for almost any purpose. Whether that be gaming, entertainment or just casual everyday use. They are all quality monitors meant to be beautiful aesthetically and have different qualities excellent for different functions.
Are thin bezel monitors more expensive?
Yes and no. There are many different price ranges for thin bezel monitors, and they can all be varied depending on brand and features. There are very good budget options for those who are looking for something affordable and more luxury options for those looking for the higher-end monitors.
Which monitor has the thinnest bezel?
There are many different types of thin bezels, and some range from 5mm to virtually non-existent. One of the bezel monitors we covered in this list, the Acer H277HU, almost has no visible frame at all. It is impossible to have completely no bezel, but the Acer H277HU is one of the ones that virtually makes it invisible to see. Excellent for multi-display setups.
What is a monitor bezel?
The monitor bezel is referred to as the frame around the screen of your monitor. It has edges and is typically noticeable and an integral part of a monitor. They can vary in sizes and the trend nowadays has been slimmer and a less visible bezel, as dual monitor setups become more common, the bezels are becoming thinner to reduce any obstruction.
What does frameless monitor mean?
While the name may be a "frameless" monitor, this is not entirely the truth. All bezel monitors have some kind of frame around them, and frameless monitors typically refer to those that just have thinner frames or bezels. They are usually very thin, below 5mm in size, and help to provide a more aesthetic design. Some have frames that aren't noticeable at all.
Is a zero-frame monitor good?
Zero-frame monitors are good for a couple of reasons, they are extremely beneficial in dual monitor setups, as they help reduce obstruction and increase immersion. They do this by maintaining high picture quality, but now are better at producing those images from end to end on the monitor screen. They are also good because they look nice, the aesthetic is a huge appeal for a monitor setup, as it can be something you are looking at for longer periods of time.