<br class="apple-interchange-newline">
Are you ready to take your blogging skills to the next level? Advanced blogging can help you increase your audience engagement, attract more traffic to your website, and build your brand's credibility. But it requires more than just good writing skills. To become an advanced blogger, you need to master the art of storytelling, search engine optimization, and social media management.
In this article, I'll share some advanced blogging tips and strategies that can help you take your writing to the next level. From crafting attention-grabbing headlines to optimising your keywords, from building a social media following to measuring your success, this guide will give you the tools and inspiration you need to succeed in the fast-paced world of online content creation.
If you want more content like this see our next article!
Mastering SEO Techniques for Advanced Blogging
As an expert blogger, I have learned how to use Search Engine Optimization (SEO) techniques to boost my website's visibility on search engine results pages (SERPs). Here are some tips for mastering SEO techniques for advanced blogging:
1. Research and Use Relevant Keywords
To improve your website's ranking on SERPs, research and use relevant keywords that your target audience is searching for. Use keyword research tools, such as Google Keyword Planner, to find the best keywords for your website's content. Incorporate these keywords into your blog post's headlines, subheadings, and body text, ensuring that you use them naturally and never overdo it. Google algorithm penalises overusing keywords, so keep an eye on your keyword density.
2. Optimise Your Blog's Content
Ensure that your blog's content is optimised for SEO. Some ways to optimise your blog's content include optimising the images on your blog, having a clear content hierarchy, making use of internal and external links, and avoiding duplicate content. Optimise your blog for mobile usability and page speed, as these two factors are also considered by Google in ranking sites on SERPs.
3. Focus on On-Page SEO
Ensure that the structure or layout of your website and its individual pages is optimised for SEO. A well-structured website will be easier for search engines to crawl and index. Optimise your meta descriptions, title tags, subheading tags, and URLs with relevant keywords. Also, ensure that your blog post's headlines are H1 tags, and incorporate relevant keywords into them.
4. Track and Measure Your Success
Finally, track your website's analytical performance. Using analytical tools such as Google Analytics, track the amount of traffic, engagement and other key performance indices you receive from your content so you can tweak your content strategy accordingly. Measuring your success and making changes along the way will help ensure that your website stays highly ranked on SERPs and you continue to generate traffic and engagement on your website.
By following these tips, you'll be able to improve your website's ranking on SERPs for relevant keywords and boost your content's visibility to your target audience.
Utilising Social Media for Advanced Blog Promotion
In this section, I'll share some tips and tricks on how to utilise social media for advanced blog promotion.
Choose the right social media platforms: It's important to focus on platforms that align with your blog's niche and audience. If your content is more professional and business-oriented, then LinkedIn would be a better choice.
Optimise your profiles: Make sure your profile information is complete and consistent across all platforms. This will help to strengthen your brand's identity and make it easier for potential readers or clients to find you.
Share your blog content: Share your blog posts on social media platforms with a catchy headline and a captivating image. You can even create a teaser or sneak peek that entices readers to click through to your blog.
Engage with your audience: Engage with your followers by responding to comments and direct messages. Ask for their opinions and feedback, and even share user-generated content related to your brand. This can help to build a community of loyal followers and increase your blog's visibility.
Collaborate with other bloggers: Collaborating with other bloggers or brands can help to expand your reach and introduce you to a new audience.
By utilising social media effectively, we can promote our blog, grow our audience, and increase our influence in the ever-evolving blogosphere.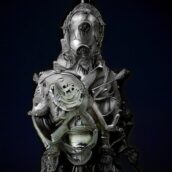 Joel
Joel is a whiz with computers. When he was just a youngster, he hacked into the school's computer system and changed all of the grades. He got away with it too - until he was caught by the vice-principal! Joel loves being involved in charities. He volunteers his time at the local soup kitchen and helps out at animal shelters whenever he can. He's a kind-hearted soul who just wants to make the world a better place.