From American cowboy hats to Japanese switchbacks and Italian flat caps, hats occupy more of the niche market today. With the global hat market size valued at $26,496.37 million in 2022 and an estimated expansion at a 6.5% compound annual growth rate from 2023 to 2030, this growing appeal for hats is among the fashionable global population.
From Nine Line Apparel and New Era to American Hat Makers and Goorin Bros Hats, America boasts of a rich legacy of hat makers, including creative newcomers who produce some of the most incredible varieties that can upgrade almost anyone's appearance. So, here are the 5 most iconic made-in-America hat brands known for their quality craftsmanship, affordability, and attention to detail:
1. Nine Line Apparel
One of the best lifestyle brands, Nine Line Apparel, produces the best made in America hats carrying a sense of national pride and patriotism. Located in Savannah, Georgia, the hats from this American hat brand inspire brotherhood and unity among Americans.
Through its hats and other lifestyle products, this give-back organization aims to support several initiatives, like disaster relief and military charities, while financially backing organizations that help those in distress.
The Nine Line Apparel bestseller, Made in America mesh hat, is a top quality, comfortable regular wear hat. With a tactical mesh back, this hat ensures good breathability and long-term use along a camo style with a hook & loop panel to secure some of your favorite patches.
Then there are Snapback hats, made of the highest quality materials with a classic build and button-free top. Varieties in this category include Dropline, Classic Patch, and Camo Snapback Hats.
Besides these, you will also find Roadie Trucker Hats, Old Favorite Trucker Hat Camo Collection, Old Favorite Trucker Hat Stencil Patch Collection, Laguna Foam Trucker Hat, and Roadie Trucker Hat Lather Flag Collection. Be it any hat you want- a beanie, toboggan, or skully, Nine Line Apparel has it for you.
All the Nine Line Apparel hats offer all-day comfort, excellent protection, and functionality. Besides being great for the outdoors, these hats, in perfect designs, prints, and embroideries, are equally comfortable indoors. Most come hoop & loop ready with front hook and loop panels to attach patches. Also, it is a made-to-order company, meaning it produces items once the customer places an order, delivering the same within 3 to 5 business days.
2. New Era
The official supplier for every Major League Baseball Team in America, the New Era hat brand has made the snapback hats a classic. Offering official headgear to fans across the United States, New Era is known for its affordability, quality, and craftsmanship. Their hats are durable and comfortable, allowing users to choose between polyester and wool blends.
The brand recently returned its flat peak cap model 59Fifty to the market with the NY amalgamated logo in front. This one and other hat varieties from the company are everywhere in movies and videos, along with the heads of well-known celebrities, such as Hailey Baldwin, Rihanna, and Spike Lee.
Very few made-in-America hat brands are as storied as New Era, which comes with a rich history of more than 100 years. Also, it is the official hat brand for sports teams like NFL, MLB, and MBA while serving the Big League baseball teams since the 1950s. So, anyone looking to rep their team officially can go for hats from New Era, one of the most trusted made-in-America hat brands.
3. American Hat Company
This family-owned and operated hat company in America lets you experience 50 years of some iconic hats available in the most impressive designs. Their hat collection will help you explore the perfect blend of contemporary flair, timeless elegance, and classic styles.
Located in Watsonville, CA, the American Hat Company focuses on every detail, from material selection to design choice, when designing and producing high-quality hats.
With more than 13,000 star reviews and a track record of making more than 1 million hats to date, creativity, integrity, innovation, and efficiency lie at the core of this made-in-America hat brand. Some of their most popular handcrafted hats are:
Black Cowboy Hats
Australian Outback Hats
Festival Hats
Boater Hats
Golf Hats
Felt Cowboy Hats
Trucker Hats
Steampunk Top Hats
Yellowstone Cowboy Hats
Voodoo Hatter Top Hats
Couture Hats
Women Cowgirl Hats
Women's Hats for Big Heads
Women Leather Hats
4. Goorin Bros Hats
If you want stylish American cowboy hats in the retro-era New York Yankee cap style, Goorin Bros Hats is the right brand. The Goorin hat collection is all about vintage American appearance, curated over 100 years ago.
Their hats are so special that you must book an appointment before buying one, or if you are lucky enough, they may be available at the local store. Made of different fabrics and available in varied colors and shapes, hats from Goorin are the chicest headgear and make simple accessories for regular wear.
5. Past Present American Hat Makers
With more than 300 years of experience outfitting cowboy hats across America, the Past Present American Hat Makers offer lasting products. They have something for every hat user, from trucker caps and military-style hats to rounded caps and more. Plus, their hats come in varied colors and shapes to satisfy the pickiest of customers while choking full of personality.
Whether it is the seersucker fedora, fancy lace hat, straw Panama hat, or floral-patterned sunbonnets, the company lets you style your head comfortably.
Conclusion
So, there you have it! The made-in-America brands detailed above are perfect if you want hats showcasing great craftsmanship, quality, and comfort. So, go ahead and get yourself a hat that fits your personality and style.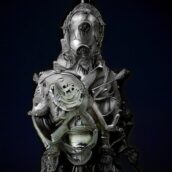 Joel
Joel is a whiz with computers. When he was just a youngster, he hacked into the school's computer system and changed all of the grades. He got away with it too - until he was caught by the vice-principal! Joel loves being involved in charities. He volunteers his time at the local soup kitchen and helps out at animal shelters whenever he can. He's a kind-hearted soul who just wants to make the world a better place.