While it's still early, it's safe to say that 2023 has been a great year for role-playing games and the video gaming industry as a whole, and that 2024 has even more potential. Games like Bethesda's long-awaited Starfield and Larian Studios' surprise blockbuster Baldur's Gate III are ensuring the year finishes on some stunning highs, with next year seeing a good balance of original projects and returning franchises.
Both Persona 3 Reload by Atlus and Final Fantasy VII Rebirth by Square Enix will be re-releases that fans are eagerly anticipating. Games like Avowed by Obsidian Entertainment are fascinating examples that expand beyond the traditional role-playing game genre.
Final Fantasy VII Rebirth
Square Enix is starting off 2024 strong with Final Fantasy VII Rebirth, which has some of the finest storytelling in the JRPG genre. Cloud and his friends will leave Midgar following the dramatic events of Remake to stop Shinra Corps from exploiting the planet's natural resources.
Final Fantasy VII Rebirth intends to build upon the success of the remake by building upon the robust plot and exhilarating real-time combat. Combat seems even more intense, the overworld looks magnificent to explore, and Rebirth is attempting to replicate one of the most absorbing elements of the original narrative. On February 9, 2024, on PlayStation 5, Final Fantasy VII Rebirth will be released.
Dragon's Dogma II
Due to Dragon's Dogma's success as a "cult classic," Capcom is allowing game director Hideaki Itsuno and his crew to return to the project. In the sequel to Dragon's Dogma, the Ascended will go on a mission to slay the legendary dragon that threatens the Earth.
The Pawn system of non-playable characters (NPCs) in the previous game made it one of the most adaptable role-playing games, and it has been greatly improved upon in Dragon's Dogma II. This sequel looks like it will be a huge step up from the original, with a more detailed setting and innovative fighting system. There is currently no confirmed release date for Dragon's Dogma II, although a 2024 release on PS5, Xbox Series X|S, and PC is seeming more and more plausible.
Avowed
The game's development cycle appears to have been slow, but Obsidian Entertainment has provided further details on Avowed. This action RPG takes place in the same universe as the studio's other CRPG series, Pillars of Eternity, and casts players in the position of an ambassador from the Aedyr Empire sent to the Living Lands to investigate a mystery epidemic.
First-person combat and the exploration of enormous, fragmented zones were among the features highlighted in the most recent Avowed video. Fans of Obsidian have high hopes that their dedication to literature and in-depth fantasy study is reflected in this offering. The release date for Avowed on Xbox Series X|S and PC is set for sometime in 2024.
"Fortune's Odyssey": Sailing Into Uncharted Waters
The increasing popularity of live casino games encouraged many developers to work on new games. The sea-themed backdrop of "Fortune's Odyssey" makes it a standout among the most anticipated slots of 2024. It has beautiful visuals and a compelling story. Intricately made symbols like as navigation compasses and treasure chests will add to the anticipation of the slots. One of the year's most visually enticing delicacies, Fortune Odyssey is sure to please.
Persona 3 Reload
A spin-off of the greater Shin Megami Tensei franchise, Persona is a game series that got increasingly popular with sequels. The fifth mainstream game boosted the series' reputation worldwide, but Persona 3 Reload is eagerly anticipated in its own right. Persona 3 Reload, a reimagining of the PS2 classic, casts players in the role of a high school student on a special task force looking into a paranormal phenomenon.
A faithful reproduction of the original tale is at the heart of Persona 3 Reload, which also contains updated graphics, new quality-of-life features, and simplified social-sim and turn-based combat gameplay. On February 2, 2024, Persona 3 Reload will be released for PlayStation 4, PlayStation 5, Xbox One, Xbox Series X|S, and PC.
Vampire: The Masquerade – Bloodlines 2
Vampire: The Masquerade – Bloodlines 2, the long-awaited sequel to a cult-classic PC RPG, is another game with a troubled development history. In the game, players will create their own vampire protagonist in present-day Seattle while also attempting to conceal their true nature from the rest of the world.
Digital Trends reports that the development of Vampire: The Masquerade – Bloodlines 2 has shifted from Hardsuit Labs to The Chinese Room. Although the game's slow, stealthy development may be concerning, the most recent video has showed encouraging signs in the realm of real-time battle. When the sequel finally arrives in late 2024 for PS5, XSX|S, and PC, maybe it will build upon the role-playing capabilities of its predecessor.

Like A Dragon: Infinite Wealth
Next year, Like a Dragon (Yakuza) will return with protagonist Ichiban Kasuga and the promise of Infinite Wealth, finally living up to its original Japanese moniker. The likeable underdog goes to Hawaii to discover his absent mother but is attacked by local criminal organizations along the way.
In addition to bringing back fan favorite Kiryu Kazuma, Like a Dragon: Infinite Wealth plans to speed up and spice up its unique take on turn-based battle. The previews have also indicated that the forthcoming JRPG from Ryu Ga Gotoku Studio will continue to enthusiastically embrace its charmingly campy vibe. On January 26, 2024, PS4, PS5, XSX|S, and PC will all get their hands on Like a Dragon: Infinite Wealth.
Dragon Age: Dreadwolf
While BioWare is still working to rebuild its status as a leading RPG developer, many fans are anxiously anticipating the release of Dragon Age: Dreadwolf. The game will be a direct successor to Inquisition, taking place in the land of the Tevinter Imperium.
Other than some returning characters and location, not much more is known about Dragon Age: Dreadwolf. The Dragon Age series has a storied history, but recent entries have failed to live up to the standards set by the original Dragon Age: Origins. In a recent episode of Giant Bomb's Game Mess Mornings podcast, industry insider Jeff Grubb revealed that the PS5, XSX|S, and PC releases of Dreadwolf have been internally pushed back until the summer of 2024.
Granblue Fantasy: Relink
Granblue Fantasy: Relink, developed by Cygames, has been waiting for a firm release date for quite some time. The player assumes the role of the captain of a sky-faring crew and travels through the high-fantasy realm of Sky Realm to complete several objectives and solve a larger mystery.
As the initial triple-Granblue Fantasy: Relink, an RPG in a series mostly available on mobile platforms like iOS and Android, has a colorful world and an exciting real-time battle system. A large cast of playable characters means players may pick and choose who makes up their four-person group. Granblue Fantasy: Relink's long-awaited release date of February 1, 2024 has finally been confirmed for PlayStation 4, PlayStation 5, and PC.

Eiyuden Chronicle: Hundred Heroes
While fans of the original Suikoden games are still hoping for a comeback, Eiyuden Chronicle: Hundred Heroes seems to be the next best thing in the meanwhile. This spiritual sequel, directed and developed by the man responsible for the PS1 classic, is set in a fantasy world where an antagonistic empire is on the hunt for an artifact that would allow them to expand their sphere of influence.
Eiyuden Chronicle: Hundred Heroes, developed by Rabbit and Bear Studios and featuring classic turn-based combat and a huge character roster, will be presented in a lovely 2.5D pixel graphic style. The game has an impressive cast that allows for a wide variety of party configurations in an attempt to live up to its subtitle. On April 23, 2024, Eiyuden Chronicle: Hundred Heroes will be released on the PlayStation 4, PlayStation 5, Xbox One, Xbox One X, Nintendo Switch, and PC.
Metaphor: ReFantazio
Atlus isn't resting on its laurels despite the success of the Persona series; in 2024, they released Metaphor: ReFantazio to the public. This game, which has been in development for a long time under the pseudonym "Project ReFantasy," would put players in the role of the Traveling Boy as they form a team to explore a fantasy world where the kingdom is on edge owing to underlying conspiracies.
There isn't much more information available regarding the narrative, but Atlus's Metaphor: ReFantazio is nonetheless interesting. This is the first high-fantasy RPG from the studio, and it has their signature take on anime aesthetics, turn-based combat norms, and social-sim mechanisms. Metaphor: ReFantazio debuts sometime in 2024 for PS4, PS5, XSX|S, and PC.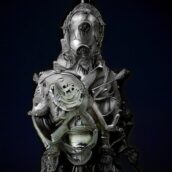 Joel
Joel is a whiz with computers. When he was just a youngster, he hacked into the school's computer system and changed all of the grades. He got away with it too - until he was caught by the vice-principal! Joel loves being involved in charities. He volunteers his time at the local soup kitchen and helps out at animal shelters whenever he can. He's a kind-hearted soul who just wants to make the world a better place.