World of Warcraft aka WOW allows multiplayer gaming. As players navigate the world, many are keen on accumulating gold for various in-game benefits. The game, developed by Blizzard Entertainment since 2004, has gained millions of players due to its unique MMORPG gameplay. Here in the game world, characters free to roam anywhere and have a conversation with other characters or players.
The storyline needs exploring at a giant level where you roam and find out several lands. The more you roam the more resources you gather and add them to your inventory. You can use these collected things whenever necessary. Also, the quests are very adventurous, and here you can set a competitive environment by using the PvP mechanism.
The avatar can be customized as per your desires using the available customizing options. So this way the storyline of the World of Warcraft continues to steal hearts. Well, there are several other games like World of Warcraft which offer almost the same concept following the identical storyline. So if you are in search of alternatives then here you go.
Game Details of WOW:
Platforms: Microsoft Windows, macOS
Genre: Massively multiplayer online role-playing
Mode: Multiplayer
World of Warcraft system requirements (minimum)
| | |
| --- | --- |
| | Specs |
| CPU | Intel® Core™ 2 Duo E8500 or AMD Phenom™ II X3 720 |
| RAM | 2 GB |
| OS | Windows® 7 / Windows® 8 / Windows® 10 |
| VIDEO CARD | NVIDIA® GeForce® GT 440 or AMD™ Radeon™ HD 5670 or Intel® HD Graphics 5000 |
| FREE DISK SPACE | 45 GB |
Games like World of Warcraft
Check out our collections of best MMO games like World of Warcraft for Android, PC, PS4, Xbox, and also available on Steam.
---
Blade & Soul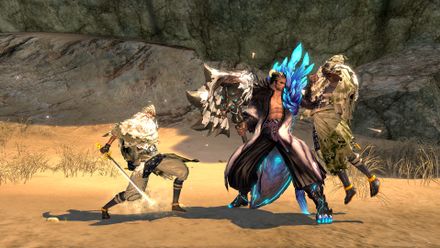 This game is a Korean version of World of Warcraft where the storyline mainly focuses on quests, resources, exploration, and other such aspects. So it is totally capable of giving you the same experience like WOW. Also, there is depth in content, so you don't feel like repeating things for quests, resources or exploration.
The cool part is the collection of serela bladed weapons just like its name and magical powers the characters are all crusty and sharp holding all perfect moves. If this seems your type of game then go on because Blade & Soul is a world where you can do massive customizations while choosing your class, race, and character.
On what platforms can Blade & Soul game be played?
Blade & Soul can be played on Microsoft Windows
---
ArcheAge
One of the top notch and similar games like World of Warcraft. The game has the power to fulfill all your games' fantastic if you are interested in the particular genre. The gameplay is always impressive and updated where the entire world seems like a new era of adventure.
There are different features for every class you choose, and that always stay exciting. In every corner, there are resources waiting for you that will surely remind you of the World of Warcraft.
As the concept is same so it is not the one that brings innovation but for the MMO space and fantasy world full of adventure and exploration the game is a must try. You get enlightened by the proper guides as you follow your path spending the skills you choose.
On what platforms can ArcheAge game be played?
ArcheAge can be played on Microsoft Windows
---
Fiesta Online
Again gameplay that offers you the Korean characters and similar landscapes. It allows playing the MMORPG gameplay, and the game has been doing very well since 2007. In this game, you are free to choose from six classes, choose your skills and just fall into the fantasy world full of combats and enemies.
So if your soul also craves for the challenging yet beautiful environment, then you can try Fiesta Online. Players can go with fighter, mage, cleric, trickster, archer or crusader. The skills can be from active, passive to alchemy. There are plenty of other features too that you can get after playing the game.
On what platforms can Fiesta Online game be played?
Fiesta Online can be played on Microsoft Windows
---
Guild Wars 2
The game is widely known for being a massively multiplayer online role-playing game. Today, it falls among the top games in the category. Due to the MMO and RPG, players compete being live from different locations around the globe. The game is available in both modes free and purchases to unlock all the features and full gameplay you need to make a purchase. But it is totally worth your time and money by getting you the full access to its mind-blowing content.
Here you can make in-game purchases too and buy gems and other add-ons. This way, Guild Wars 2 offers very interesting motives to achieve that was not included in the first version.
On what platforms can Guild Wars 2 game be played?
Guild Wars 2 can be played on Microsoft Windows, Mac
---
Continent of the Ninth Seal
It's not just the MMO world, but it majorly includes combats at a great level that makes it one among the similar games like World of Warcraft. The game is set at a fast pace for the quests, so you need a bit practice if you do not have a handful experience in encountering combats.
The landscapes always stay captivating, and that makes the entire combat situation more appealing. As result players often find them engaged C9.
The enemies are very much filthy here that every time you make exploration and kill them right away. There are monsters and other evil powers, and fighting in those dungeons make it all ultra-enjoyable.
On what platforms can Continent of the Ninth Seal game be played?
Continent of the Ninth Seal can be played on Microsoft Windows
---
Order and Chaos
The game has somewhat same graphics quality and landscapes as WOW, so it comes here among the games similar to World of Warcraft. The MMORPG gameplay has been in trend since 2011 and availability for several platforms make millions of players experiencing the game.
The game offers the concept just like WOW, and the game world doesn't feel overfilled. Everything is neat and classy, and the simplicity makes it more appealing. As its name, here a player can choose either Order (human and elf) or Chaos (orcs or undead) and start the journey after getting the character active.
On what platforms can Order and Chaos game be played?
Order and Chaos can be played on Android, iOS, Microsoft Windows, Windows Phone, Macintosh operating systems, Ouya
---
Flyff (Fly For Fun)
The game always attracts new players because of the class system where you can choose from Acrobat, Magician, Assist, and Mercenary. Being another MMO fantasy game, it introduces the great level of adventures every single mission or objective. The game's superpower is the flying system which makes it one of the most sold gameplays. Players don't need to walk on foot to explore. Instead, they use the flying mechanism and make it a method of transportation.
Regarding quests and other features, the game covers the content well. So you won't feel like fewer missions to achieve. Flyff also allows you connect with others using several methods, so it's a good one for connecting socially.
On what platforms can Flyff (Fly For Fun) game be played?
Flyff (Fly For Fun) can be played on Microsoft Windows
---
Allods Online
Allods provide you the MMORPG genre, and the gameplay comes free of cost. So players who are seeking for similar gameplay like WOW but do not wish to pay any subscription can head to this one. Here the journey takes you through several floating islands, so landscapes here are all beautiful and worth visiting.
The war goes on, and you take part in several conflicts in order to set victory and gather resources. The graphics are awe-inspiring that keeps your exploration continues. The gameplay entirely justifies the genre by providing combat, dungeons, resources, monsters, skill and class system, customizations, and much more. So it deserves to be one of the top wow like games.
On what platforms can Allods Online game be played?
Allods Online can be played on Microsoft Windows
---
Lineage II
The game includes both innovation and combat system that charges you nothing to play. Because of the technology implemented game world, it has collected millions of fans where you can choose from several classes and continue the MMORPG journey.
Lineage II is the better and more advanced version of the previous Lineage. So if you have played the first one, you will easily catch up the basic idea of gameplay. Also, it allows character customization where you can pick up desired skills like fighter or mystic. Races are there too to set the adventure even more exciting where each player possesses unique strengths.
On what platforms can Lineage II game be played?
Lineage II can be played on Microsoft Windows
---
Age of Conan
As the name implies, the game takes you in a somewhat traditional era where you can feel being in the age of Conan. But it also brings the MMO experiences just like any other one on this list. The game is free to play where you will be dropped in the Conan fantasy, and your story begins in that world.
The graphics are responsible for making it feel like the Conan age, and that is pretty good. You will get to the game world after applying changes to your character and choosing skills. You can choose from races like rogue, priest, mage, and soldier and class option is available too.
On what platforms can Age of Conan game be played?
Age of Conan can be played on Microsoft Windows, Xbox 360
---
Tartaros Rebirth
A Korean fantasy that brings you playing in the form of Korean characters. It is just launched in the previous year 2017 that follows the concept of the previous version but in an advanced form. The gameplay and the MMO environment makes it feel like you're having the World of Warcraft.
The visuals are outstanding where everyone is a hero with their choice of class. Each level gives you more power and understanding to promote your skills and gather things. The more quests you take, the more abilities you get. And yeah, you can possess more than one character with the same account so you can experience other powers too. So the game makes itself a great piece on the list of World of Warcraft like games.
On what platforms can Tartaros Rebirth game be played?
Tartaros Rebirth can be played on PC
---
RuneScape
If you have never heard about Runescape, we have to mention that it is built from fantasies where you can enter in multiplayer mode. You can play it on both browser and another application version for people who enjoy gaming world. It is filled with intricate quests and great medieval visuals.
In case that you are already bored with Runescape, and you want to try some different game with similar style and gameplay, check games like Runescape.
On what platforms can RuneScape game be played?
RuneScape can be played on Microsoft Windows, macOS, Linux
---
Age of Wushu
As you can get an idea by its name, the game mixes up some mechanics regarding martial arts, so the combats remain in the form of wushu where users face the opponent and perform a lot of wushu moves. Following the MMORPG, there are several amazing features too like players are free to choose several martial art classes. So if you have tries one already you can go or a new class and feel the unique skills.
The game shows your progress using the level system that you earn participating in serial quests, combats, and crafting. There are many additional things too that can be enjoyed, and for that, it will be good to experience them in the game instead of reading here.
On what platforms can Age of Wushu game be played?
Age of Wushu can be played on Microsoft Windows
---
Eden Eternal
The game promotes a fast-paced combat environment that brings you Korean like characters.
The same storyline put it among the World of Warcraft like games where players engage themselves in the MMORPG world. Here you are a hero that is in a strange land and out of memory.
Here you can pick up any of the classes that are over fifteen, and there are five types of characters to pursue. So if you want to feel a wide class system, then you will enjoy this game a lot as it allows you to stitch freely among the classes.
On what platforms can Eden Eternal game be played?
Eden Eternal can be played on Microsoft Windows
---
Lucent Heart
An MMORPG Korean-themed gameplay that brings you the same combat system like the World of Warcraft. The things that make it more demanding are astrology and dating where you build a relationship with others. So it's not just quests or resource gathering, but there is a deep story for relationship management too.
The MMO is the feature that makes it all possible and what makes it more like WOW are those dungeons, monsters, combats, PvP, and other factors. You can either choose mage or warrior, and the role takes you accordingly. There are serial skills too that you can pull while creating your character and there are additional powers which users experience with the advanced gameplay.
On what platforms can Lucent Heart game be played?
Lucent Heart can be played on Windows
---
Black Desert Online
With the most robust range of character customisation options seen in an MMORPG, Black Desert Online competes with all of the other games in the category. A sand-box style game, Black Desert Online is developed by the Korean company Pearl Abyss and has incredibly realistic and immersive visual design and graphics. 
You participate in fast-paced combat in this fantasy world where the current conflict is between the Republic of Calpheon and its rival neighbouring nation, the Kingdom of Valencia. You also have the option of mount-based combats, which is another unique feature of the game. 
On what platforms can Black Desert Online be played? 
Black Desert Online can be played on PlayStation 4, Xbox One, PlayStation 5, Xbox Series X and Series S, Microsoft Windows
---
Destiny 2
While at first glance Destiny 2 might seem like it has vastly different gameplay than World of Warcraft, owing to its first person shooter style combat modes, it has a similar core game theme and storyline. You play the game as a 'Guardian' who works together with other players to save the last city of humankind from alien invaders.
While you don't get to personalise your avatar, you do get the freedom to customize your combat style. After choosing your class and subclass, you have a wide array of options for weapons, armor and mods to establish yourself as a Guardian to be reckoned with. 
On what platforms can Destiny 2 be played?
Destiny 2 can be played on PlayStation 4, Google Stadia, Xbox One, PlayStation 5, Microsoft Windows
---
Final Fantasy XI
The eleventh installment of one of the earliest running MMORPGs, Final Fantasy has a dedicated community and fan following of its own for good reason. Produced by Hiromichi Tanaka, the Japanese video game developer, this classic adventure game takes place in the fantasy world of Vana'diel. 
Players can create and customize their own avatars and then complete game objectives to complete quests and go up the hierarchy ladder in the game.
On what platforms can Final Fantasy XI be played? 
Final Fantasy XI can be played on PlayStation 2 Microsoft Windows and Xbox 360
---
Lord of the Rings Online
Lord of the Rings Online is a massively multiplayer online roleplaying game (MMORPG) like others on this list, and is set in J.R.R Tolkien's fictional world of Middle Earth, taking place at the same time as The Lord of the Rings trilogy. 
Players can control their avatar: a character that can be created by choosing any one of four different races (Dwarves, Elves, Hobbits and Men) and seven classes, and complete quests to earn experience points and level up in their personal skills. Players also collect valuable items, trait points, and defeat enemies in combat to progress through the game. 
On what platforms can Lord of the Rings Online be played? 
Lord of the Rings Online can be played on Microsoft Windows, OS X
---
Conclusion
These 19 best MMORPG games like World of Warcraft offer you very much the same storyline, so they all fall here on the list. Additionally, each of them has unique features for you to experience. Just like in the Flyff you can fly, in the Lucent Heart, you can establish relationships, so each game pursues its own abilities. So you can try them all or be a choosy one just as you wish. Share your expenses that are always valuable.
Also, read Complete List Of All WOW expansions
Charles
Charles has been writing about games for years and playing them all his life. He loves FPS, shooters, adventure games like Dota 2, CSGO and more.